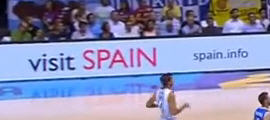 While Fiba, the International Basketball Federation, is busy promoting the official and quite long official website of the world cup, www.fiba.com/spain2014, another domain name is dominant in the games: Spain.info.
The Basketball World Cup in entering the semifinal phase today with USA going against Lithuania. Unfortunately, for some, Spain lost to France yesterday and will not have the opportunity to compete against the USA that hasn't lost a game since loosing to Greece back in 2006.
Spain.info is the official Spanish tourism website sponsored by TURESPAÑA the Spanish national tourism organization and is heavily promoted for many years now. Advertising Spain.info in an international sports event like the Basketball World Cup is great for boosting Spanish tourism. I wish Greece did something similar.
ICANN and Afilias, the .info registry, have an agreement for country names to be reserved by ICANN under resolution 01.92 but these domains can be allocated to the respective countries. Any national agency can contact Afilias and acquire the respective country domain name. A lot of countries don't know this. e.g. USA.info and Greece.info are still reserved after 13 years after .info was launched.
All 2 letter country code domain names and country names are reserved by ICANN in all New gTLDs. This makes country domains in existing gTLDs, like greece.biz, very rare and valuable. Countries that don't own their name in any of the gTLDs should take this opportunity and register the .info. It's only $10.
.Info domain names are a perfect match for tourism/travel websites and I think that Afilias should start contacting all countries that have not registered their respective domain name yet.
Watch some Greece – Argentina 79 -71 (yes we lost to Serbia but won the game below) highlights here to watch the Spain.info ad in the game: