Escrow.com, the popular online escrow service, has added a transaction search functionality. The new feature helps you search within all your transactions, open and closed. This is especially helpful when you have 10s of closed transactions and you want to find one fast, without going page after page. I have about 250 transactions and this feature really saves me time.

On the main screen above you can search by domain name, description or title. You can enter a domain name or part of. This way you can search by TLD by entering for example ".info" to see all the .info domains you have sold. Or you can find all domains sold for a certain keyword.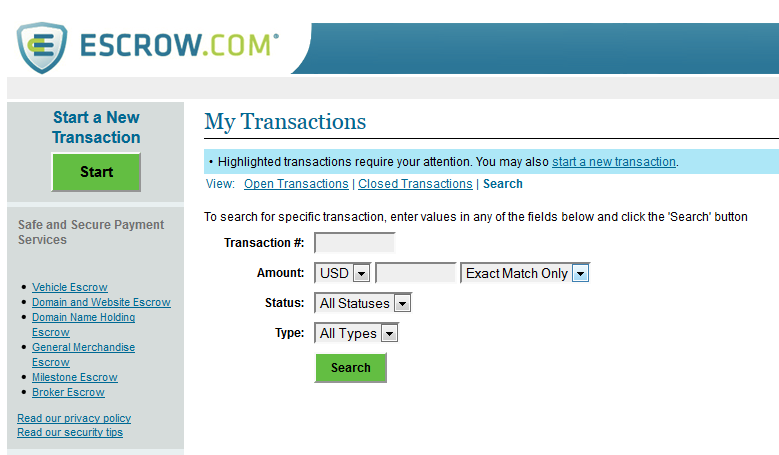 If you click on "Search" you get to the more advance search where you can search by transaction number, amount, status or type. The most useful feature of this advanced search is that I can find immediately what domains I have bought by selecting "buyer" at the type drop down menu.
It is nice when a website adds a feature that you hadn't thought of but makes your life easier. But now that they have added it I am would one small feature added. On the amount search I would like a "less than" and "more than" option so I search for 4 or 5 figures sales easily.
And I found a small bug: when you go to page (e.g.) 7 of your closed transactions and then make a search and the resulting pages are less than 7 you are left in page 7 and you see no results. You have to click on the page number (1, 2 etc) on the bottom right to get to the results.
(Escrow.com is an OnlineDomain.com sponsor.)