A new service was launched that helps parents name their baby based on what domain names are available. The website is called "Awesome Baby Name" and is located at the domain name awesomebabyname.com.
The website tagline is:
"Find a name for your baby that isn't already taken
Get baby name recommendations based on what firstnamelastname.com domains are available"
The website claims that more than 8,500 parents have used it so far. The domain awesomebabyname.com was registered just 4 days ago, on the 1st of August 2014.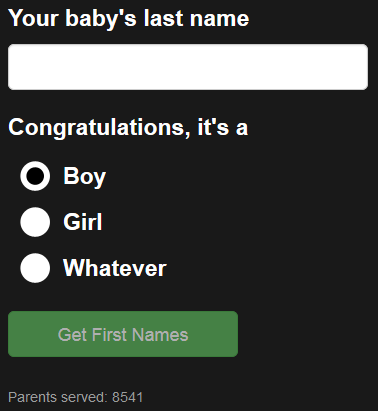 You just type in your baby's last name and whether it's a boy or a girl. The website will search what first names are free in .com and redirect you to namecheap.com to buy them.
The website then gives a warning:
These domains are available right now. But domains can go very quickly, so we recommend you get it as soon as possible. Otherwise, someone else might register it before you do.