Last month, Google announced it is getting into the domain name registration business through Google Domains and offered a form to sign up to be invited. Like countless other I submitted the form but I have not heard back.
It seems that some have been invited over time but now those who have access have been given the ability to invite their friends. I believe this is coming mostly out of Google employees who have accounts with Google Domains. A few people have offered invites but all are gone in minutes.
Google Domains beta is working a lot like the initial Gmail invite system.
Kim Clinkunbroomer posted on Google+ a screen shot of the interface for Google Domains: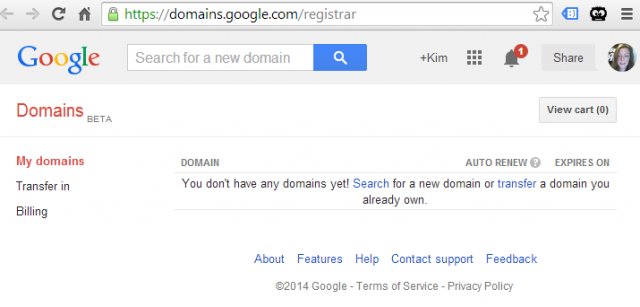 The interface seems very primitive and doesn't seem to have a lot of menus or options. But of course Google Domains is still in Beta testing and most of the invites are given out so that Goole can receive feedback from users.
If anyone has an invite for Google Domains please send it my way. Thanks.