I noticed today that Sedo, that is using the Google feed, has started displaying banner ads on the domain names that are parked there. Instead of always getting a list of text ads you now sometimes see a single banner ad: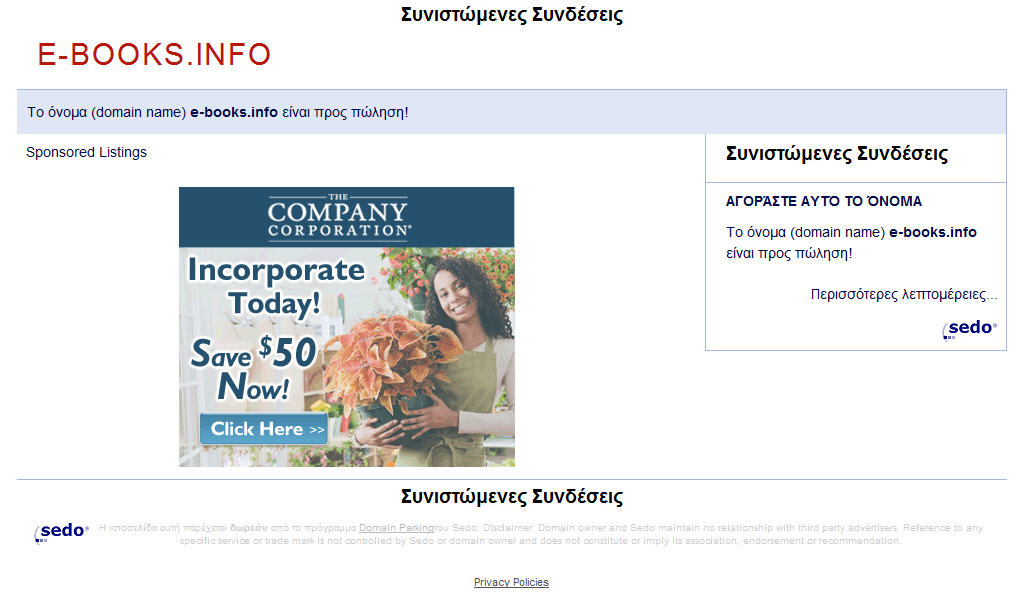 I had made a couple of searches on Google for "US incorporation" thus the ad you see displayed. Banner ads and text ads alternate each time you hit the refresh button. The keyword at my domain e-books.info is set to "books" so I am not sure why I see these ads. I wonder how the domain is seen from the US or other countries. I am a little worried because keyword selection ensures you don't infringe on any trademark rights. I visited a few others of my domains and the ads are not always targeted to the selected keywords but rather on previous google search pattern. Are you seeing the same thing on your domains?
On another note it seems that after Sedo disabled most of the parking templates and removed the feature where you could add a photo to your landing page (a feature I had spend several hours adjusting) now the option to choose your preferred language has disappeared also from landing pages. So if you are traveling to a different country you will not be able to read anything as the geolocation feature will choose the language for you.
I haven't noticed a banner ad on any domains parked at DomainNameSales.com or any other parking companies. Let me know if you seen one. On the other hand DomainNameSales.com is displaying some nice photos by default on parked domains: