The DotWeekly disaster (where the owner lost 7 years of work) got me thinking. I do an onsite backup regularly but that might not be enough. I was searching for an online backup option and I read good reviews about CrashPlan.
I was ready to buy a plan a couple of days ago when I noticed that they were having a Black Friday special. I logged in 30 minutes ago only to see they were giving away 1-year unlimited plans for free. I just got the "CrashPlan+ Family Unlimited 1YR" that lets you backup up to 10 computers and you have unlimited online storage. I didn't post earlier as I didn't want to loose this deal. 🙂
The normal cost is $119.99 but I just got it for absolutely free. Prices will be increasing every 2 hours so the faster you buy the bigger the savings. I don't claim to have tested their service or software but for $0 I couldn't afford not to try it for a year. Of course you can try it for a month. They offer a 1-month free trial but by the end of the month price will be back to normal.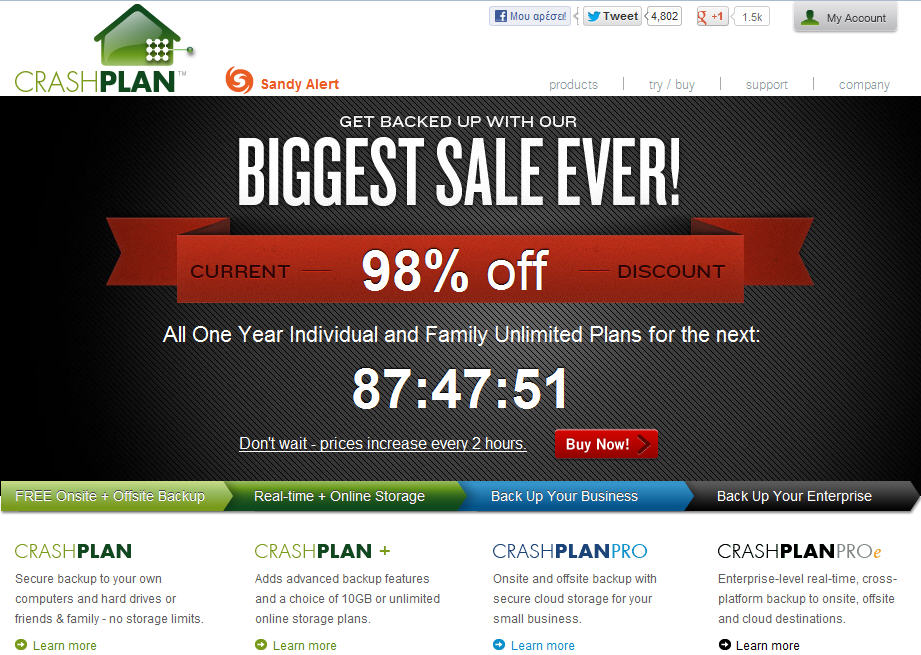 Here is the promotion they are running for the next 3 days:
Black Friday Discount on 1 year unlimited plans:
Save between 42% and 100% when you buy a new CrashPlan 1-year plan.
How the Sale works:
On Friday, Nov. 23 at 6:00AM CST, CrashPlan 1-year plans will be FREE. Every two hours after that, the price will steadily increase until Monday Nov. 26, 2:00PM CST, when your purchase will be discounted 42%. The discount will remain at 42% until the sale ends, 11:59PM CST Monday.
Limit one plan per person/household/credit card. Multiple orders will be cancelled.