ICM Registry today announced the release of over 1,000 premium generic keyword domain names. The "release" means that these domains now are priced and are now available for registration on a first come, first served basis. These domains were available before but anyone interested had to contact the .xxx registry and negotiate on the price.
The domain names now feature a lander with a "Buy It Now" button at the top of the page:

There is also a contact form where any interested party can contact the .xxx registry: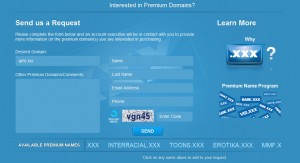 There are over 1000 .xxx domain names for sale that include girls.xxx and fuck.xxx. The list of names now generally available can be found at www.icmregistry.com/premium.
This doesn't mean that all registry reserved domains are now priced. There are still a lot of reserved domains that still display this message on their webpage:
The unpriced domains include many of the top 49 categories featured on the search.xxx search engine. There are domains like bareback.xxx, pornstar.xxx or pov.xxx. You will still have to contact ICM Registry and negotiate to get these domains.
Domain name prices, for these over 1000 priced domains, range from $220000 down to an affordable $330. ICM Registry offers 2 payment plan options:
One-Time Payment Option
You can obtain a Premium Name through a direct payment.
This option allows you to launch your .XXX domain name as soon as possible.
or
Development Program & Payment Plan Option
If you prefer not to make a one-time payment for the Premium Name you desire, you may be eligible to obtain a Premium Name through an ongoing payment plan, coupled with a development proposal.
As a part of the development proposal, we encourage you to think about innovative uses for the .xxx domain name you are pursuing.
Here is the complete press release:
.XXX Operator Releases Main Wave of Premium Generic Keyword Domains
A Month after Launching the Internet's Adult Search Engine, ICM Registry Releases 1,000 Most-Sought Names
Palm Beach Gardens, FL – October 24, 2012 – Following the highly-successful launch of the Internet's first Top Level Domain (TLD) porn search engine, www.search.xxx, ICM Registry today announced the release of over 1,000 premium generic keyword domain names. These domain names are now available for registration on a first come, first served basis and many reflect the most popular key words searched by millions of adult content connoisseurs.
Keyword domains ranging from blondes.xxx to zorras.xxx are now generally available for registration for those interested in being part of the Internet's hottest search engine. ICM Registry, which operates the .XXX TLD, created www.Search.xxx as the first search engine to find exactly what a user wants amongst millions of pages of .XXX content. The creation of the Internet's first porn search engine drove immediate high volume traffic to many .XXX domains – and has kindled overwhelming interest from across the globe for new generic keyword domains.
The algorithm that search.xxx uses gives weighting to exact match domains with highly developed content and so these newly released names , once developed and listed, will feature prominently in search results for the most popular keywords.
ICM analyzed the most-sought after keywords based on the top keywords entered into Search.xxx by over eight million searches/page views undertaken since the launch on September 27. This was then matched to the list of previously reserved premium names. The list of names now generally available can be found at www.icmregistry.com/premium Editor's Note: Most of those reference adult-themed content.
CEO of ICM Registry, Stuart Lawley, said the general release of these domains is part of ICM Registry's responsible approach to developing the .XXX top level domain into an environment that serves adult entertainment consumers by helping them find and enjoy the exact content they want. There has been astounding interest from across the globe from providers wishing to seize this opportunity to build pages of content for a growing audience under the .XXX umbrella.
"In the first week we saw over one million unique viewers who searched through 8 million pages of content. This meant a huge spike in our .XXX registrants' traffic," Lawley said. "Now people have heard of Search.xxx, and we're responding to this sense of urgency and answering a demand for more domain names. For years we've studied keywords – but in the last few weeks we have had the ability to know exactly what is currently driving consumers' interests. Search allows us to provide real-time industry insight while protecting individual consumer privacy.
Lawley added that the release of these domain names is a part of ICM's on-going mission to build the strength and vitality of the .XXX ecosystem with ICM registrants who develop quality sites; we want our community to prosper from high levels of traffic. Many of the names offered are exact matches of top search terms and categories.
"This general release of premium domain names follows ICM's prior sales of over $5 million in premium domain names; over the last year, we have sold approximately 200. Many sites such as Gay.xxx at $500,000, Fetish.xxx at $300,000 and Shemales.xxx, which was part of a $200,000 deal, are developed, live and attracting visitors daily," Lawley said.
Websites built on these new premium domains will benefit from the unique visibility being driven by Search.xxx, the porn-only search engine. Consumers can rest assured that new websites will provide the same .XXX security protection of daily Malware scans by McAfee. Additionally, each site will have a MetaCert electronic Family Safety label making it easier for users, organizations and parents to adjust browser settings to restrict access to websites labeled as adult oriented content.
More on Search.xxx
Search.xxx offers a clean user interface and intuitive keyword searches. Search.xxx uses the same technology as usual mainstream search engines but is for adult content only. Search.xxx allows you to set your language preference and your sexual orientation preference, as well as to control the "look and feel" of your style preference." Additionally the service offers 50 pre-set categories and selections already figured out based on popular surfing habits. Recent enhancements allow users to search specifically for videos, still images, cam sites, stores, DVDs and more, making Search.xxx an experience totally focused on delivering exactly the adult entertainment users want: quickly, discreetly and easily.
More on ICM Registry
ICM Registry, headquartered in Palm Beach Gardens, Florida, is the registry operator for the .XXX sponsored top-level domain as approved by ICANN in 2011. ICM Registry provides the management and supporting infrastructure for this extension offered via registrars around the world.