Afternic announced today that it now offers a new Buy-Now landing page with GoDaddy branding.
The new landing pages also include 24/7 sales and support from GoDaddy.
To use the new BIN landing pages you have to use these nameservers: NS5.AFTERNIC.COM/NS6.AFTERNIC.COM.
Here is the complete Afternic announcement:
"Just like a For Sale sign in real estate, For Sale landing pages generate increased leads by letting potential buyers know your domain is available for purchase. Landing pages help increase exposure for your listings by reaching your domain's type-in traffic and converting this traffic into more sales for you.
Today, we're excited to announce our new Buy-Now landing pages as an additional option to our highly successful Lead landing pages. These new pages enable you to set a Buy-Now price and let GoDaddy handle the rest with a streamlined buying experience. Additionally, the pages offer:
Increased global exposure with localized language, currency by region and different payment options – all in an easy-to-use format.
Simple and powerful design. With designs optimized for mobile and desktop, we make the buying process smooth for buyers to quickly and securely purchase your domain.
GoDaddy brand and support. Build trust and confidence for buyers with landing pages branded by GoDaddy that include 24/7 sales and support.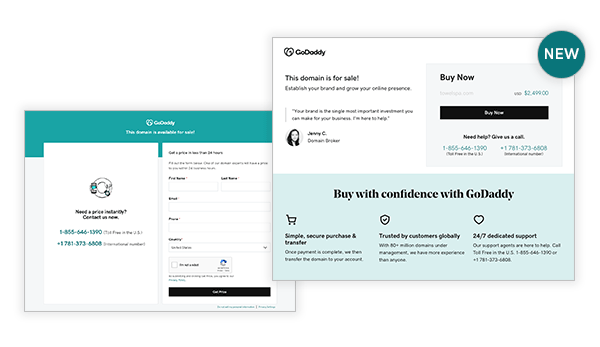 To take advantage of our new Buy-Now landing pages at no additional cost, simply:
Log in to your Afternic account and make sure your domains have a Buy-Now price.
Go to your domain settings on your domain registrar.
Under Name servers, type NS5.AFTERNIC.COM and NS6.AFTERNIC.COM
Click "Save."
Your domains listed on Afternic receive the largest exposure worldwide and you receive 24/7 support from our knowledgeable team. With our existing Lead and new Buy-Now landing pages, you really can increase your sales potential."