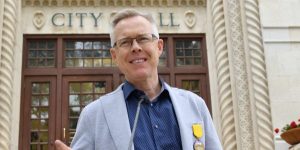 .Monster, one of the most ridiculous New gTLD extensions, launched today by the XYZ registry. Nobody really cared about these domains except than to get a good laugh especially since the registry chose April Fools' Day to launch their new domain names.
The only other interesting thing about the extension was if Rob Monster, CEO of Epik.com, would grab the domain name Rob.Monster that matched his first and last name.
Well it turns out he didn't. Someone else grabbed Rob.Monster today immediately after general availability started. The new owner BuyUsedDomain.com is from Germany and has put the domain for sale at Undeveloped.com. Minimum offer price is $250.
It would be interesting to see if Rob Monster, that has been in the middle of an Epik controversy lately, will do anything about this domain or if he didn't really care about the .monster extension like everyone else in the world.
I wonder if this controversy made the owner buy this domain.
Rob already owns the exact match .com domain name RobMonster.com that redirects to his LinkedIn account.
BTW Rob's twitter account is back online after being offline for a few days.