The .Mom domain extension launched yesterday by Uniregistry that is owned by Frank Schilling.
In less than 24 hours after general availability a Greek registrant contacted no other than Frank Schilling to sell him a .mom domain name: luxurious.mom.The domain was registered at Uniregistry.
Frank posted the email message on his twitter account: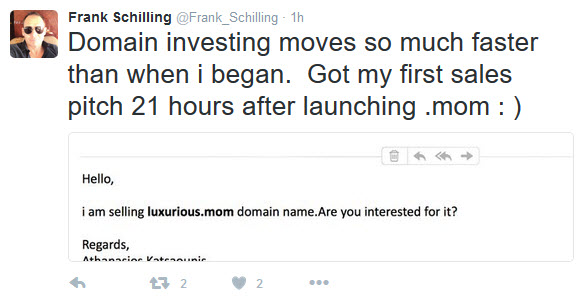 The Greek owner Athanasios Katsaounis probably doesn't know who he sent the email to. Athanasios lives on a Greek island and owns 100+ domains. His portfolio mostly consists of .com and .pro domain names.
I don't think that Athanasios will find a buyer soon and it will certainly not be Frank. If he wanted the domain he would have reserved it before GA.
.Mom that had its general availability on the 3rd of May had already gotten about 20,000 domain name registrations after a few hours as Frank Schilling announced on Twitter.