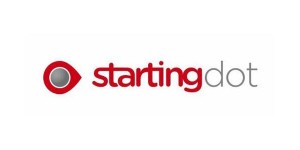 StartingDot, a New gTLD registry, announced that it successfully launched its EPP Premium Name Feature on March 17th. The initial launch made over 1,800 two-letter premium domains from the .ARCHI, .BIO and .SKI TLDs available directly to the general public through any registrar partner who implements the EPP (Extensible Provisioning Protocol) Premium Name Feature.
StartingDot will be releasing further premium TLD domains to the market through the EPP Premium Name feature over the coming months. Ultimately an estimated number between 3,000  – 5,000 premium names will be released for registration through EPP over the next two years. Premium EPP names are be priced in tiers – there will 6 tiers that the names will fall into.  The minimum tier will be 59€ to a maximum tier of 2,500€.
| | |
| --- | --- |
| Tier | Registration, renewal and transfer price (Euro) |
| Tier 10 | 59€ |
| Tier 11 | 125€ |
| Tier 12 | 225€ |
| Tier 13 | 500€ |
| Tier 14 | 750€ |
| Tier 15 | 1250€ |
| Tier 16 (Super Premium) | 2500€ |
All registration, renewal and transfer price be returned via EPP. All two-character domains being released under the EPP Premium Name feature will be available to all StartingDot's 60+ global domain name registrars to sell. Registrars who wish to sell StartingDot premium EPP names will need to make changes to their EPP clients. Technical support and or questions should be addressed directly to contact@startingdot.bio.
The EPP Premium name feature is enabled on the server side. For those registrars who do not wish to sell premium names, they will not be required to make any EPP client related changes (AND create/renew/transfer commands from those registrars for premium names will be rejected).
.BIO Sedo Auction Names
Results of a 2-letter domain name auction at Sedo were published here. StartingDot will again partner with Sedo to run a dedicated .BIO domain name auction starting on May 3rd 2016. The theme is food & shopping related .BIO names for Europe's organic food sector which is worth 15bn euro with DE, IT, FR, CH, AT, NL and BE at its forefront.
| | |
| --- | --- |
| Domain | Reserve |
| chocolat.bio | 150 € |
| honig.bio | 150 € |
| product.bio | 150 € |
| shokolade.bio | 150 € |
| wein.bio | 150 € |
| oil.bio | 150 € |
| gluten.bio | 150 € |
| dm.bio | 150 € |
| markt.bio | 150 € |
| shopping.bio | 150 € |
| at.bio | 150 € |
| ch.bio | 150 € |
| de.bio | 150 € |
| us.bio | 150 € |
| we.bio | 150 € |