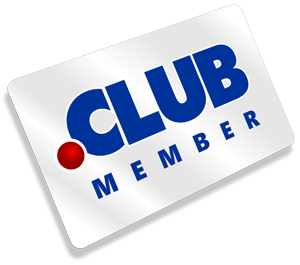 Colin CampbelI, founder of .CLUB, has officially challenged Daniel Negari, CEO of .XYZ, to a debate at THE Domain Conference that takes place this September in Florida.
Colin is debating that free or nearly free domain names doesn't make a TLD popular.
Colin Campbell send the following tweet today:
Daniel says .XYX is #1. Let's discuss what makes a TLD great for domain investors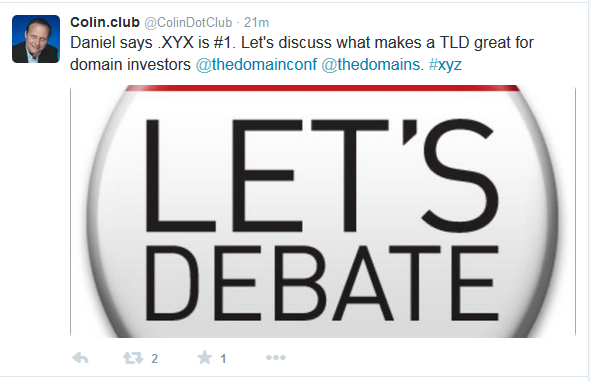 Colin also send several other tweets including:
Too many mainstream journalists look at stats without understanding whether the names were bought or offered for free.
If free or nearly free names made a TLD popular than .TK would be the 25 X more popular than .XYZ and 100 x more than .CLUB.
Based on recent court documents it appears Verisign's case against .XYZ is much stronger than first thought

exhibit showing 3 million payment. He created a perception that it was demand and they were most popular – not true in my opn
I am proud to say that .CLUB maintains it ethics in an industry with such questionable players
Fact is: .CLUB won almost every award, survey, used by celebs, and #1 by far generic on Godaddy + other registrars
It all started (again?) when the exhibit and witness lists for the Verisign vs XYZ trial were published by the DomainNameWire. A representative of the .Club registry will be a witness for the plaintiff. That kicked off a series of tweets between Colin Campbell and Kevin Murphy from DomainIncite.com. Colin then continue to tweet more about .XYZ. (see above)
I have read the documents from the Verisign vs XYZ trial yet so I can't make a comment as to if the lawsuit has any merit or not. But I have seen that several of my articles are in the exhibit list such as ".XYZ is DEAD – DISASTER! Daniel Negari Exposed! .XYZ down to 34th place! Where is Deals.xyz?" that is one of my most popular articles lately and I now realize why. (Google choosing abc.xyz for its Alphabet website had a part in the sudden popularity of the article as well.)
I think that the debate should not only be about what makes a TLD great for domain investors only but what makes a TLD popular and successful in general. .XYZ and Deniel Negari have not responded to the challenge yet.
Colin made a couple of other tweets late last night that I believe he doesn't want to be seen as I can't find them today. These were probably deleted by Colin, right? 🙂
All I can say it that Colin challenged Daniel one on one!