The new GoDaddy Pro beta is now open and you can join.
GoDaddy Pro is a brand new program that was developed specifically to serve web professionals and their needs. It's a one-stop shop for the web pros, to manage their clients and their clients' products. Program members also receive a host of different benefits.
"A lot has changed at GoDaddy since 2011, and we've created an entirely new set of technology, new programs and new support paths especially for web designers and developers. That's GoDaddy Pro."
A number of the early alpha testers in the program use WordPress or other content management systems such as Drupal or Joomla! to build websites for clients, and the GoDaddy Pro tools make it easier to manage those sites for those clients.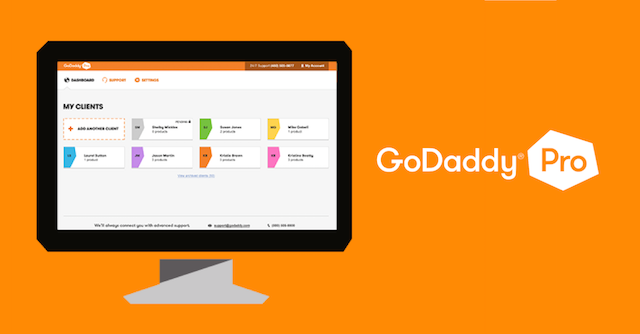 GoDaddy Pro members gain exclusive access to tools including a client dashboard, account management, shared shopping carts and client site monitoring. Program members also get access to special, Pros-only support. Here's a rundown of the key bits:
Client dashboard. View all your clients and the products they own, all in one place.
Account access. Access your clients' products as an admin without sharing passwords.
Shared shopping carts. Send a client a shopping cart loaded with recommendations; they can simply checkout (without you needing to do that weird credit-card sharing phone call).
Site monitoring. View uptime and site speed for your clients' websites.
Pro support. Access a special direct line to Tier 2 support that is exclusively for web pros (it's more technical and more direct than "regular" support).
In addition to access to the Pro tools and Pros-only support, GoDaddy Pro program members will receive exclusive offers for themselves and their clients.
GoDaddy Pro is meant for anyone who builds and maintains websites for others. Whether you're getting paid for it as a full-time gig, or are the occasional moonlighter building sites for others in the community, you'll likely find an aspect of the program that helps you make more money, save time, and better exceed your clients' expectations.