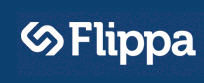 Flippa introduced a new feature yesterday that is the Domain Catalog. Flippa's Domains Catalog is a brand new section of the marketplace, entirely different from the auction listings that all Flippa users can list their domains for sale but without an initial fee and without the domains listed as auctions. In the Catalog, domains are listed exclusively as 'Best Offer' or 'Buy It Now'.
When a buyer wants to make an offer he/she can send an optional message and can also see that payment methods the seller accepts.
It is free to list domains in the catalog. The domain sales fee and auction fee are both set at 10% 15%. (instead of the auction 10% fee) There is a $60 minimum fee. The domain catalog minimum fee has been eliminated.
You can now upload at Flippa as many domains as you want at one time, even your entire portfolio. To do this you go to the Domains Catalog section and click the big green "Sell your domains" button, and begin the upload process.  You will see your domain catalog listings populate first, after which you can input minimum offer and Buy it Now pricing.
The last step before your catalog listings go live is to verify ownership of each domain. (either automatically via the corresponding email address listed on the domain's WhoIs, or manually by inserting a TXT Record into the Zone File of each domain, via its registrar.)
You can edit your catalog listings at any time, as well as convert your domain to auction to set a time limit on your sale.
This addition comes naturally after Flippa's new feature that caters for post auction negotiations. The Domain Catalog makes Flippa a direct competitor to Sedo, Afternic, Go Daddy, DomainNameSales.com and other domain marketplaces.