Plan Bee, LLC, the .build registry, is using a valid, but probably based on fake evidence or no evidence at all, trademark from Switzerland to register domain names in the New gTLD sunrise phase.
Plan Bee, LLC, a California company, is part of the Minardos Group and was established in 2012 in order to apply and later become the .build registry. And it succeeded in that. ICANN approved its .build application.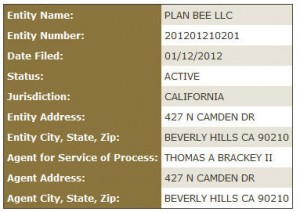 Plan Bee, LLC has been registered in the Trademark Clearinghouse for the mark "build" in class 14 that relates to precious metals:
International Class of Goods and Services or Equivalent if applicable:
14 – Precious metals and their alloys and goods in precious metals or coated therewith, not included in other classes; jewellery, precious stones; horological and chronometric instruments.
Here is the trademark information that I got when I tried to register build.photography from Go Daddy: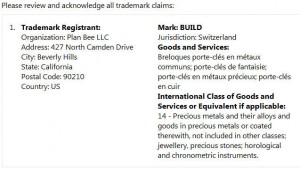 Plan Bee, LLC has been using the Swiss trademark registration below to participate in the sunrise phase for various New gTLDs.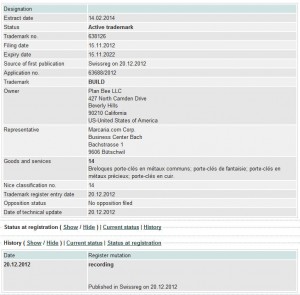 Here are the sunrise domain name registrations so far:
build.construction
build.contractors
build.directory
build.equipment
build.guru
build.kitchen
build.land
build.lighting
build.technology
By the way Minardos Group is a construction company and doesn't have to do anything with precious metals. Minardos Construction & Associates owns 2 US construction relater marks named "BUILDING UNIQUE ENVIRONMENTS" and "CREATE BUILD INSPIRE".
It is a mystery how a domain name registry from California has a trademark registration for precious metals in Switzerland. Well, actually it is not. They did the registration in Switzerland for a reason. It is obviously very easy to get a trademark for anything there. Their group already had 2 US trademarks so registering a Swiss trademark wouldn't make any sense except if they couldn't get the trademark in the US. They are now using the Swiss trademark for sunrise domain name registrations.
Plan Bee, LLC has cheated its way into sunrise with a fraudulent trademark. Would you trust such a company and register .build domain names?
People are trying to game the whole New gTLD process and this could have serious consequences.
I have asked Plan Bee, LLC for a comment but haven't received one yet. I don't expect a reply anyway.
How I noticed all this you may ask… I was seeing all these build.newgtld registrations in zone files thinking who could own such a trademark and then I happened to read something about the .build registry. At that time I made the connection.