To renew or not? The one question that comes up tens, hundreds or thousands of times each year for every domainer.
Should you pay for the domain name renewal or drop the (bad) domain and save a few bucks?
There are many signals to help you determine if a domain should be renewed. The point I want to make here is that the GoDaddy domain appraisal tool can NOT be the main signal!
If you are determining what domains to renew or drop based on this tool then you are not doing this domaining thing correctly! In fact this tool can't be any of the signals you use except maybe helping you find a similar sale. But then again you should have known this domain had value before you found this comparable sale.
I read on Twitter the other day about someone doing using this tool to renew or drop his domains. I can't even begin to understand what he did before this tool was introduced!
There is no automated tool that can appraise domain names correctly. Putting some averages together in a tool does not really help domainers in their business. Every domain name is unique and also 99% of the time the owner has more data than anyone else to determine the value.
So what domainers need to do is learn how to evaluate domains and spend the time to do it! Appraisals or finding out what to renew or drop takes time. Accept that and then decide if you want to be in this business.
Here are 10 things I examine when deciding what domains to renew and what to drop.
GoDaddy domain name "appraisals"
I can not even start to describe how bad this algorithm and tool is and how much it is hurting everyone that uses it. But I will to sum it up below. (More detailed posts to come as I have been testing this tool for a year now.)
First of all the algorithm is bad. By bad I mean very very bad. So bad it is useless in any sense.
Its main problem is that it can't differentiate a good domain from a bad domain. Yes, it will probably recognize a 3-letter .com or a dictionary .com domain has value but you don't need a bloody algorithm for that.
Whatever, and I mean whatever!, domain you input the price is almost always between $1,000 and $15,000. Again, we all know the average price of domains sold is somewhere in there.
The domain Imeanwhatever.com is valued at $1,047 and is of course NOT registered!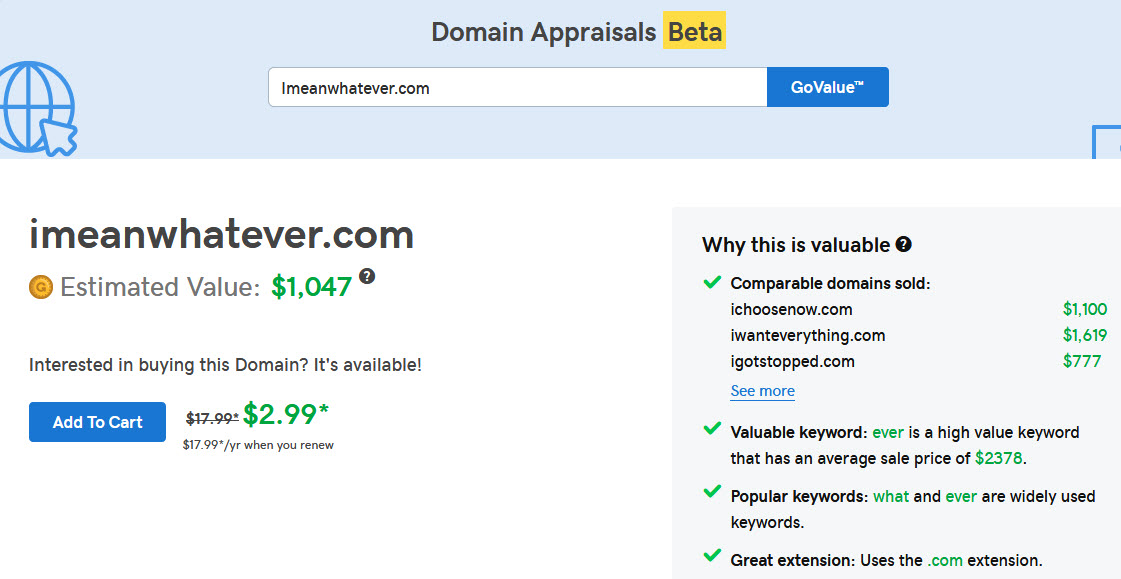 The main thing this "tool" does is make some clueless people register domains like this or renew domains like this thinking they will be rich.
Do you even know how hard is to find unregistered domains that you can sell for $1,000 is? You need to search thousands of domains using many tools to even find 1 that could potentially one day sell for $1,000. Yes, this godaddy tool spits them out constantly.
The second main problem is that the algorithm doesn't seem to learn from new domain sales. Even if a domain sells for $25,000 at GoDaddy and the sale is actually shown in the the Godaddy appraisal tool the "algorithm" does not seem to acknowledge that. The least the algorithm could do was give more weight to newer sales. It doesn't.
This tool is only useful so you can find some low end past sales as GoDaddy has stopped reporting sales but they actually do input them into this tool. So if you know that a domain sold at GoDaddy there is a good chance that you will find the price. Well there is one more use for it…