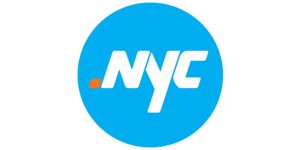 .NYC celebrated its 3rd year anniversary, so they shared a few highlights to showcase how New Yorkers have helped to build and grow the .nyc domain.
The .nyc domain extension consistently ranks in the top 3 of all city domains, with just over 74,426 domains registered at the time of this writing. .NYC is behind .london and .tokyo.
.NYC shared a few cases of New Yorkers doing what they do best on .nyc domains:
Here is also what .nyc shared about premium .nyc domain names that have been sold so far:
Premium .nyc Domain Names
It was just a year ago that we kicked off .nyc's second year anniversary with the release of thousands of "premium" .nyc domain names.  A premium .nyc domain name has a higher intrinsic value than the average domain name, and is likely to be in far greater demand. To date, over 515 premium .nyc domain names have been sold to New Yorkers through the world's leading domain retailers, with a collective value of over $595,157 — making .nyc domains some of the hottest tickets around in the digital real estate world!
Check out a few examples of the premium .nyc domain names that recently sold through our network of domain retailers over the past year and are waiting to be developed: Lawyers.nyc, dating.nyc, local.nyc, beauty.nyc, smile.nyc and modern.nyc. Of course, the ones we're the most excited to share with you are the premium domains that our customers have already started using for their personal or business brands and big ideas.  For example, check out:  Moon.nyc, VR.nyc, and Ken.nyc.  The prices for these premium names ranged from $255-$7,000.
Ken.nyc, in particular, is a great example of how an individual can build a personal brand with a .nyc domain. Ken simply points his branded .nyc domain to his LinkedIn profile page. Let's face it, it sounds a whole lot better to say "connect with me at ken.nyc," than to try to remember and share your cumbersome LinkedIn profile url!
Going Once, Going Twice…Sold!
Shortly after the premium names released in 2016, we followed up with our very first .nyc premium domain name auction. For the first time ever, 20 of the most highly sought-after .nyc domain names were offered through a public online auction. Super premium domain names like RealEstate.nyc, Apartments.nyc and Studios.nyc, were just some of the gems on the auction block. We held two more auctions over the past year, one fashion-themed during Fashion Week and one tech-themed coinciding with Internet Week in the spring of 2017.
Domain name auctions are a great way to offer high value, premium .nyc domains to the public in an unbiased, transparent way. Bidding was open to all and starting bids were just $500 for the premium .nyc domain auctions. With such a low entry point for high quality domains, auctions make it possible for any bona fide New Yorker to own valuable digital property at a great price. As most auctions go, there are always a few items that spike with high demand during the final minutes of bidding, sometimes reaching tens of thousands of dollars.
In fact, our .nyc premium domain auctions made history with several top-selling domain names, including Shop.nyc for $33,500 and RealEstate.nyc for $21,300.
There were also some excellent premium domain names that ended up going for a steal in our auctions. Here are a few really great deals that some lucky New Yorkers nabbed:
Photographer.nyc – $2,200
UX.nyc – $2,150
Lofts.nyc – $1,200
Chat.nyc – $525
Of course it has not been all good in the past 3 years. .NYC has had its fair share of problems. For example Fashion.nyc that sold in a domain auction for $37,000 was never paid for.