DigitalTown, Inc. announced a major strategic partnership with Dot London Domains Limited and Minds + Machines (LSE: MMX), operators of the .LONDON top-level domain name. The ambitious partnership aims to align the .LONDON domain extension, a suite of cloud-hosted software applications and verified digital identity, with emerging Smart City initiatives to support business and inspire digital innovation in London.
The initiative — Smart.London — will entitle residents and licensed businesses to a free verified digital identity and allow them to optionally select a unique personal brand that they can own forever. Smart.London will be launched at London Tech Week on June 13, 2017.
"London was identified by DigitalTown as the ideal city to showcase the possibilities of its suite of cloud-hosted Smart City applications, given London's leading global status as a digital hub for internet based businesses. The suite includes a SmartWallet, which enables residents and visitors to search, connect and transact via web and mobile devices, all with a single login. Residents of London and licensed businesses will be able to secure a verified digital identity at no cost. The expected result is that more money stays in London while improving economic prospects for businesses and simplifying access to services for residents all across Greater London."
Smart.London will be formally launched at London Tech Week on June 13, 2017 with full-day briefing by Smart City Experts.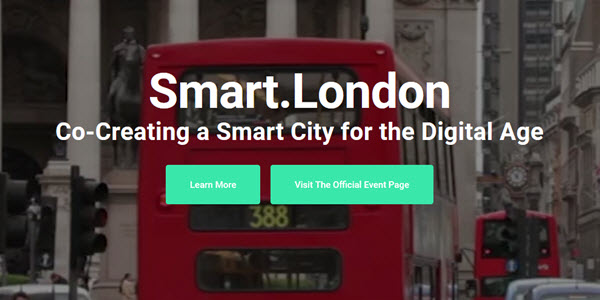 Rob Monster, CEO of DigitalTown, explained why London Tech Week, taking place at venues across the capital, was selected for the global launch of Smart.London as part of the Global Smart City Network. "The undeniable success of peer-to-peer marketplaces such as Uber has shown the power of cloud-based software as an organizing force to connect stakeholders in ways that transform economies in innovative ways. However, while Uber has blazed a trail, vast potential remains for innovation by civic innovators of all sizes and all types. Our aspiration is one day that Smart.London will become a global standard by which businesses and citizens connect, share and transact in smart cities."
The .LONDON registry is now one of 24 other top-level domain registries that are part of the emerging Smart Web movement.
Dan Hill, Head of Dot London, the official domain name created for the benefit of London businesses, residents, and those wishing to be associated with the city, commented, "London's established legacy of embracing new technology, as well as its tremendous capacity for innovation and creativity, will be on full display during London Tech Week as we convene an estimated 45,000 people from 70 countries. This strategic partnership with DigitalTown is a great example of how the new Smart Web can provide breakthrough capability for enabling London residents and visitors to engage and transact locally, while equipping London businesses to engage and sell globally."
Toby Hall, the CEO of MMX, the operator of the .LONDON registry, added, "As a major global registry operator, we have a responsibility to support innovative and breakthrough applications of how domain extensions and domain address conventions can be used. We are delighted to play a central role in bringing this project to life."
The rollout of the Smart.London platform will be supported by ongoing in-market research to be conducted by the University of Greenwich in order to measure market acceptance and economic impact of the Smart.London initiative. The research effort is led by Professor Bruce Cronin, who is Director of Research at the Business School, as well as Director of the Centre for Business Network Analysis. Professor Cronin commented, "At this critical time, on the eve of Brexit, London stakeholders need to adapt to a new competitive playing field — one that is increasingly digital. We are delighted to partner with such an impressive group to bring forth a wave of innovation on a scale perhaps not previously witnessed as we tap into the tremendous innovative capacity of the bright minds that call London home."
Digital Greenwich was started in 2013 as an initiative sponsored by the Royal Borough of Greenwich to bring breakthrough Smart City technology to Greenwich. With an estimated 18 million visitors per year coming to Greenwich, and the home of the O2 arena, Greenwich is no stranger to the topic of Smart Tourism. To mark the launch of Smart.London at London Tech Week, Paul Copping, Chief Innovation Officer at Digital Greenwich and a respected expert on Smart City technology, will lead a panel of hackathon judges through the process of selecting the winning project and advising participants.
Mr. Copping commented, "Smart Cities are fundamentally about co-creating Quality of Life. The Smart.London hackathon project is a natural extension of the rollout of this exciting Smart.London platform. We are looking forward to an exciting surge of Smart City innovation across Greater London made possible by this breakthrough developer framework."
Licensed Businesses and Residents of Greater London wishing to secure a verified London Digital Identity are encouraged to register ahead of the June launch by visiting www.Smart.London where registrations for Smart.London identities can be made.