Cnobin, a Hong Kong based registrar, announced that it has stopped offering .TOP domain name registrations effective immediately. At first this seemed strange for a Hong Kong registrar as Chinese registrants hold almost 80% of all .top registrations but Cnobin explained the reasons.
This move comes just a few days after Namecheap stopped offering .xyz registrations for reasons the registrar did not explain. (Although I have a feeling that Namecheap was not happy selling and supporting thousands of free or next to free domains with very low margin and insignificant renewal rates while registrars in China were getting special treatment.)
The registrar blamed the .TOP registry for the move stating a change in .top domain registration policy. The new policy, according to the Cnobin, is imposing very strict restriction on domain owner contact information.
Cnobin was offering .top registrations for $1.99 before this announcement.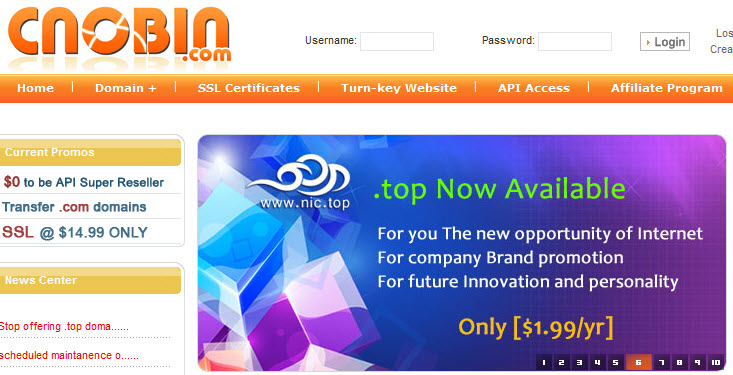 I asked Cnobin to explain further this decision. The registrar said that the .top registry will request registrants to submit scan of driver license or identification card for further verification. If you do not pass the verification, the domain will be suspended or deleted.
I guess that puts a lot of unnecessary strain to the registrar that has to deal with a lot of verification emails, customer complaints and refunds. I believe that the low registration price (and thus margin) and the low renewal rates of free or very cheap domains forced the registrar to make such decision.
Cnobin said further that for existing domains, they would like to recommend owners to transfer to other registrars outside China, because this policy is only for the registrars in China.
I visited the .top website and couldn't find any evidence of any change in policy since August, 2016 and no mention of any change in the latest news. I did not receive a response from the .TOP registry regarding this issue.
Will other Chinese registrars follow Cnobin? It would be interesting to follow.
.Top is the second most popular New gTLD, according to domain name registrations, with .xyz being in the lead. .Top currently has over 4 million registrations. Of course .TOP is one of the new extensions, including .xyz, that have offered and are offering a lot of free or very cheap (less than $1 or $2) domain name registrations.