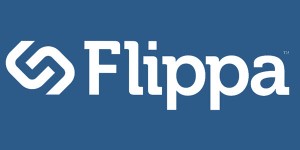 Flippa Domains' third quarter of 2016 report features 300 domains that were sold for a total of $518,410.
Chapter.com was the top selling domain name at $40,000. SMSMarketing.com got the second place spot with $20,000.
TrumpPence.com was sold for $18,734 while another election related domain name ClintonKaine.com sold for $15,000.
The recent sale of 0123.com for $252,500 officially happened in Q4.
Most of the publicly reported Flippa sales throughout July, August and September are listed here:
| | |
| --- | --- |
| Domain Name | Price |
| Chapter.com | $40,000 |
| SMSMarketing.com | $20,000 |
| TrumpPence.com | $18,734 |
| tech.io | $18,000 |
| Loan.info | $16,500 |
| ClintonKaine.com | $15,000 |
| digital-apex.com | $12,500 |
| hexo.com | $10,000 |
| ZOBA.com | $10,000 |
| Donnie.com | $8,502 |
| thinkers.com | $8,000 |
| partial.com | $7,000 |
| brightkite.com | $6,000 |
| newsline.com | $6,000 |
| Sell.io | $5,500 |
| Technology.io | $5,050 |
| LEDFlashlight.com | $5,050 |
| codespaces.com | $5,000 |
| Mutually.com | $5,000 |
| homework.net | $5,000 |
| miau.com | $5,000 |
| decrypted.com | $4,900 |
| choosecandy.com | $4,650 |
| vv9.com | $4,500 |
| airplanemode.com | $4,500 |
| Jimmie.com | $4,500 |
| 23n.com | $4,499 |
| xeno.com | $4,050 |
| wipes.ca | $4,000 |
| gyrate.com | $4,000 |
| urfashionstore.com | $4,000 |
| movie.io | $4,000 |
| qtscan.com | $3,700 |
| vapemarket.com | $3,050 |
| Creditcard.io | $3,000 |
| downgram.com | $3,000 |
| peoplerocks.com | $3,000 |
| bluekeys.com | $3,000 |
| LaptopParts.Com | $3,000 |
| helpdesk.org | $3,000 |
| Trump.io | $2,950 |
| doberman.net | $2,751 |
| BetSquare.com | $2,750 |
| hb5.com | $2,750 |
| discountable.com | $2,700 |
| Interview.org | $2,700 |
| Stream.to | $2,550 |
| TrueAds.com | $2,500 |
| yourdailyscoop.com | $2,500 |
| Acquitted.com | $2,500 |
| LemonTrees.com | $2,500 |
| v9.org | $2,500 |
| l.nf | $2,499 |
| tollfree.co | $2,495 |
| Beer.io | $2,450 |
| FantasyRankings.com | $2,350 |
| Zuxe.com | $2,200 |
| CookingBlog.com | $2,106 |
| dork.org | $2,069 |
| HealthCenters.com | $2,050 |
| smoke.io | $2,050 |
| Discountable.com | $2,050 |
| iadu.com | $2,000 |
| PlayList.io | $2,000 |
| Lung.net | $2,000 |
| WomensPants.com | $2,000 |
| 31l.com | $2,000 |
| adgiant.io | $2,000 |
| adgiant.co | $2,000 |
| Hygene.com | $1,995 |
| goodtimepassau.com | $1,990 |
| iReplay.com | $1,850 |
| Repay.io | $1,800 |
| frameable.com | $1,800 |
| forgetmusclepain.com | $1,700 |
| ba.gs | $1,670 |
| e.toys | $1,608 |
| beymen.net | $1,600 |
| thr.net | $1,600 |
| Portfolio of 30 Domains | $1,500 |
| sex.directory | $1,500 |
| 3td.com | $1,500 |
| black.car | $1,500 |
| northtech.com | $1,500 |
| DVDRelease.com | $1,499 |
| kebnekaise.com | $1,400 |
| bmxs.com | $1,356 |
| e.guide | $1,334 |
| Dzil.com | $1,300 |
| Route8.com | $1,300 |
| learnerdriver.com.au | $1,250 |
| darrylevans.com | $1,250 |
| BuyMY.com | $1,250 |
| posefix.com | $1,200 |
| myapponline.org | $1,200 |
| TouristBay.com | $1,150 |
| adz.org | $1,150 |
| bahisdunyasi.com | $1,110 |
| hwql.com | $1,100 |
| fkbg.com | $1,100 |
| fruitybingo.co.uk | $1,100 |
| hostinginsider.com | $1,050 |
| Listed.io | $1,004 |
| HillaryClinton.net | $1,001 |
| biqe.com | $1,001 |
| phpshell.in | $1,000 |
| rusted.com | $1,000 |
| breastfoundation.com | $1,000 |
| paperback.co | $1,000 |
| zmvt.com | $1,000 |
| sell.biz | $1,000 |
| clicksuremedia.com | $1,000 |
| iprs.com | $1,000 |
| crowdwatch.com | $995 |
| CityDrones.com & FederalDrones.com | $990 |
| stream.biz | $990 |
| Portfolio of 88 LLL .IO Domains | $956 |
| fktp.com | $956 |
| rugbyco.com | $920 |
| fwct.com | $918 |
| Portfolio of (20) Domains | $900 |
| CatAndMouse.com | $899 |
| fktn.com | $852 |
| Blankets.net | $850 |
| ChristianStyle.com | $820 |
| SolarCharger.net | $805 |
| 71o.com | $800 |
| mutual.ly | $800 |
| v3t.com | $799 |
| g8tr.com | $796 |
| Pay.do | $750 |
| 0bv.com | $750 |
| Sellio.com | $750 |
| 4ob.com | $725 |
| tpx.cc | $715 |
| PoliticalArena.com | $715 |
| Portfolio of 80 Domains | $700 |
| khotob.com | $700 |
| PotMag.com | $680 |
| avior.co | $677 |
| tokenize.com | $671 |
| Chino.org | $655 |
| Bitcoinz.io | $650 |
| zephyrs.com | $628 |
| BostonBroker.com | $615 |
| v3t.com | $605 |
| Flig.ht | $600 |
| x.recipes | $600 |
| politicalpundit.com | $600 |
| atworld.us | $600 |
| designconsultants.co.uk | $600 |
| ecdt.com | $600 |
| webproxy.io | $587 |
| CeramicPans.com | $575 |
| AnimeTalk.com | $575 |
| Rom.io | $560 |
| wi.to | $555 |
| bmov.com | $549 |
| GetOnlineVotes.com | $525 |
| sat.info | $520 |
| Portfolio of 71 Domains | $510 |
| olsson.io | $506 |
| commercialrealestateagents.com | $505 |
| thegrade.com | $505 |
| HomeOfficeIdeas.com | $505 |
| Signalled.com | $505 |
| Wireless.Network | $503 |
| Vaporize.io | $500 |
| rGAY.com | $500 |
| BAMz.com | $500 |
| mbps.io | $500 |
| AlexFerguson.com | $500 |
| chelseaevanka.com | $500 |
| mil.cloud | $500 |
| uxze.com | $500 |
| TheApartmentLocators.com | $500 |
| networkready.com | $500 |
| Derivatives.net | $500 |
| re-circle.com | $500 |
| mqii.org | $500 |
| cute.cc | $500 |
| conservativezone.com | $500 |
| sv2.net | $500 |
| cannabis.cr | $500 |
| MegaProduce.com | $500 |
| HiTechLED.com | $500 |
| unleashyourcreativity.com | $500 |
| pinot.io | $500 |
| ForexInvest.Online | $499 |
| Cashier.io | $499 |
| uxme.com | $495 |
| the100.com | $480 |
| chezz.com | $475 |
| eloq.com | $475 |
| cpc.io | $475 |
| Vests.io | $465 |
| s3q.com | $460 |
| uberbox.com | $454 |
| G8f.com | $450 |
| belgique.net | $450 |
| popcouture.com | $440 |
| Mon.io | $432 |
| cv-library.in | $430 |
| losslesscreative.com | $425 |
| ReadABlog.com | $415 |
| ShopEarly.com | $415 |
| Portfolio of 19 LLL.IO Domains | $411 |
| Hotelxyz.com | $410 |
| inbox.info | $407 |
| Portfolio of 5 Domains | $405 |
| barcelonavsrealmadrid.com | $401 |
| stork.io | $400 |
| ProfessionalLeader.com | $400 |
| savvykids.com | $400 |
| PageDraft.com | $400 |
| enginetouch.com | $400 |
| DeliveredbyDrone.com | $400 |
| survivalfoodkits.com | $400 |
| lvc.io | $400 |
| pgp.me | $399 |
| Nolo.net | $399 |
| mass.co | $399 |
| calzedonia.cloud | $399 |
| uupm.com | $396 |
| GameRanker.com | $390 |
| juix.com | $380 |
| Portfolio of (30) 6N.com Domains | $380 |
| ocrx.com | $370 |
| uomb.com | $367 |
| Bootstraps.net | $365 |
| low.rent | $362 |
| Ogsq.com | $361 |
| Climate.io | $358 |
| Noop.net | $355 |
| keywordplanners.com | $350 |
| sudso.com | $350 |
| hotgirlselfies.com | $350 |
| iuly.com | $350 |
| electrosatdoc.com | $350 |
| VRporno.xxx | $350 |
| SuperCarSwap.com | $350 |
| regadget.com | $350 |
| beginnerinvestors.com | $350 |
| MarketingSoftware.net | $347 |
| Tow.io | $338 |
| Portfolio of 8 .COMs | $338 |
| DizzyLizard.com | $338 |
| qizbiz.site | $333 |
| RUod.com | $330 |
| Portfolio of 30 Domains | $330 |
| Seminars.io | $330 |
| Um.wtf | $325 |
| quaint.net | $325 |
| unfm.com | $320 |
| Portfolio of 4 LLL.io | $320 |
| br.to | $317 |
| jewk.com | $315 |
| Inventions.io | $315 |
| subjectable.com | $315 |
| Arsenal.biz | $315 |
| kwao.com | $315 |
| medicare.io | $315 |
| wkme.com | $310 |
| eLaughs.com | $310 |
| Crusin.com | $305 |
| bvlb.com | $305 |
| Diction.org | $304 |
| ibnews.com | $304 |
| qqza.com | $301 |
| qqfa.com | $301 |
| TabletService.com | $301 |
| kararane.com | $300 |
| ShishaPens.com | $300 |
| dronezoom.com | $300 |
| mmo.io | $300 |
| qqve.com | $300 |
| qqua.com | $300 |
| trapbeatsforsale.com | $300 |
| cloudshares.com | $300 |
| supii.com | $300 |
| Freebie.Guide | $300 |
| eSports.racing | $300 |
| mpr.io | $300 |
| qquk.com | $300 |
| DronePress.com | $300 |
| CloudLink.net | $300 |
| Vheadset.com | $300 |
| gunz.net | $300 |
| noopept.net | $300 |
| Puled.com | $300 |
| BrewCups.com | $300 |
| UbHt.com | $300 |
| forexgain.com | $300 |
| whitewombat.com | $300 |
| creditrepaircreditcards.com | $300 |
| OneCrypt.com | $300 |
| FindPainRelief.com | $300 |
| intranetgroup.com | $300 |
| Intend.io | $300 |
| TheHigher.com | $300 |