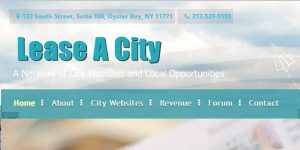 Lease A City (www.LeaseA.City) is a new project (founded in 2016) that aims to offer city information to its online visitors through a network of .city domain names and directory websites.
Lease A City owns some very good .city domain names of large US cities such as Dallas.city, Oakland.city and Phoenix.city.
Lease A City offers business opportunities to entrepreneurs who live in or close to these respective local City websites. Entrepreneurs can run their own business with fully developed turn-key websites. The program offers fully functional ".City" Pure Branded websites including: Domain, Design, Content, Hosting, Training, Support and more.
If you are interested in joining the network and running a City Website in your City (for a nominal startup and low monthly fee), please contact Lease A City for more information.
This is another project running on .City domain names. The other is DigitalTown.com that uses 11,000 .city domains.
According to Lease A City the City websites allow people to earn revenue through various revenue streams and methods:
I – Display Advertising Sales
Sell Local, Regional and National Banner Ads, Inline Text Ads, Pop-up Ads, Contextual Ads
Models:  Cost Per Click, Cost Per View, Cost Per Day (software included)
II – Listing Advertising Sales
Sell various Business Listings to Local merchants who want business from your viewers.
Model: Annual flat fee
III – Lodging Reservations
Earn revenue for each Hotel, Motel, Bed-n-Breakfast, etc. reservation made from your website
IV – Email Sales
Sell custom vanity email addresses "bob@phoenix.city" to people who live in your website's City.  This is a smart alternative to a hard-to-remember, unprofessional, and meaningless email address.
V – Web Address Sales
Sell custom website addresses off of your valuable pure City Domain.  Custom or Subdomains can be valuable to Businesses and Residents in your City. ie: "pizza.phoenix.city" or "bob.phoenix.city"
VI – Mini Site Sales
Sell mini websites to local businesses including Setup, Design, Subdomain and Hosting.
Many of the City websites below are available for lease: