Please beware of domain "broker" Andy Kelly, CEO of UpMarketDNs.com. He presents himself as a broker of several domain names that he has no authority to do so.
He contacted me about a 1-word .com and the conversation didn't go well. (see below)
On his website he claims to be the broker of several premium domain names including many 2-letter .coms like:
xt.com
zi.com
zc.com
yt.com
bu.com
ke.com
fe.com
wt.com
For example yt.com is owned by Google, Inc. and certainly they are not selling the domain name and even if they did thy wouldn't use Andy Kelly as their broker.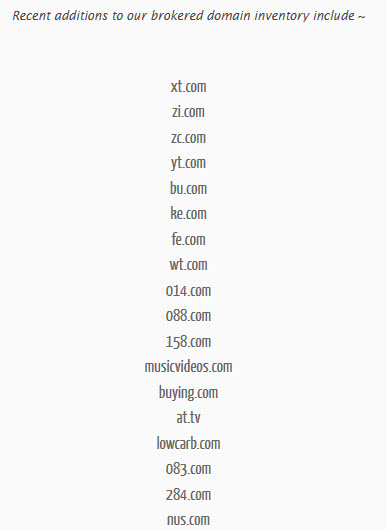 He also claims to be the broker of NewYork.net that is owned by NameFind LLC that is a Go Daddy company. Go Daddy brokers all their names internally using Afternic. The list of domains Andy Kelly claims to broker is endless.
I was contacted by Andy Kelly offering me a 1-word .com:
Dear Sirs,

We are premium domain brokers and we are exclusively handling the sale of one of our clients domain names.

The domain in question is *******.com

Clearly this is a perfect fit for your website and perfect for your online marketing campaign.

The sales price of this domain is $1,000,000 USD and any sale would be required to go via escrow.com to ensure a safe transaction for all parties.
Clearly the domain was not worth a million dollars and I was avoiding contact with Mr. Andy Kelly for a few years after a past incident that he had with some other domainer.
Nevertheless I made a small offer as the domain name is in my broad interests to see where this could lead. This was his first reply:
Would need a lot more unfortunately.

We have literally only started marketing this in the last couple of hours and already

have a 225k offer.

We have had contact previously.

Let me know if you want us to market any of your domains but would need your prices incl our 10% fee.
I replied with a simple "No, you didn't get a 225k offer." to call his bluff and this is when it all started.
Here are some of his emails to me:
are you sure? anyway do you think 2k is to be taken seriously? no offence but thats a joke I know you want it cheap but how can I take 2k seriously?

you know me??? really??? are you god???? 2k is a total joke, a very bad joke get real. lets leave it at that should we? before this degenerates further. Seriously I always thought you were ok but this entire conversation is ludicrous and you started the non sense not me.
I told him he was a liar and this was his reply:
and I know you are a total as***le

now why dont you take your 2k and stick it where the sun doesnt shine?

yes we got that offer from a ****** manufacturer in the UK!!!!!!!!!!!!!!!!!!!!!!!!!!!!!!!!!!!!!!!!!!!!!!!!!!! I phoned them direct ok?????

offer was flat refused you muppet

Liar?, who are you saint Konstant?????

I repeat F***K OFF

I suggested you to quit spamming me with your utter BS but no you had to carry it on – i knew it would degenerate in to this s**t and its your fault

you moron

any further replies from you will be deleted, cretin

not even going to waste another second arguing with you
At that point I checked whois and put the name of the owner into the email "conversation".
The owner emailed me and asked me what it this all about:
I received this in my mailbox today.

What is this very strange e-mail all about???
When I explained to him what had happened with Andy Kelly the owner replied:
He has neither the authority to sell my domains nor to talk to you in such a harsh manner.

Please disregard any e-mails from this Andy person.

I communicated with him once, showed him a few of my names but never signed any agreement.
After that I only received one email from Andy Kelly with the subject "piece of s**t" and the words "u rotten greek piece of s**t :)".
So Andy Kelly is presenting himself as a broker of domain names he has no authority to do so. Beware of him either if you are a seller or a buyer.
The email addresses he is using is andy@upmarketdns.com and urlbrokers@gmail.com.

If you are a buyer you should contact the domain name whois and talk to the owner directly when Andy Kelly contacts you. If you are a seller/owner then you don't have a lot of options. If he contacts you and ask you to be your broker you should say no and not show him a list of your domains. If he goes out selling your domains then you are out of luck.
You have been warned.