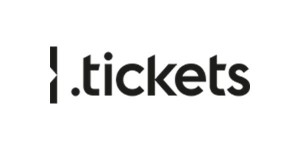 Accent Media, the London-based .tickets registry, is making around 30,000 previously reserved premium names available.
The registry announced that as of today, anyone seeking to build or grow a business around domains such as 'cheap.tickets', 'americantour.tickets' or 'club.tickets' can immediately take control of the names and use them.
The domains name cheap.tickets has already been registered. Americantour.tickets is available for $2,100 per year while club.tickets is offered for $16,000 per year. Prices were found at tickets.domains. Most (if not all) 2-letter .tickets domains are priced at $16,000 per year. 666.tickets has the same price.

The 30,000 names include 11,000 numerics, 4,000 geographies and 3,000 generics (like concert.tickets or festival.tickets), with the rest evenly distributed between entertainment, transport, travel and sport. Accent Media is available to consult on the launch of any new sites and brings considerable ticketing and technological expertise to the table, with the leadership team including two former Ticketmaster executives and the ex-Head of Strategy at IBM Global Networks.

Around 30,000 premium names, such as 'cheap.tickets', 'americantour.tickets' and 'club.tickets' have been made available for the first time to innovators and thought leaders
Owners of premium domains will be able to seize and unify fragmented ticketing sectors
'Broadway.tickets' and 'tube.tickets' sold to industry leaders for significant six-figure sums
Premium names in this round are available for as little as $1500
"Global ticketing is suffering its biggest crisis since the internet's conception, with fraud, mis-selling and aggressive touting becoming increasingly common. The industry is yet to offer a compelling response, which gives innovators an opportunity to capture large disjointed markets and restore lost confidence and satisfaction in consumers."
Gary Fisher, Co-CEO of Accent Media, said: "This is the moment we have been waiting for, as we view premium names as the future engine of the '.tickets' brand. The generic category names present an enormous opportunity to the world's innovators, as evidenced by recent substantial six figure sales to blue chip companies and entrepreneurs who plan to build pioneering businesses around the names."
Steve Machin, Co-CEO of Accent Media, added: "We have made premium names available with a relevance to each individual market. Numeric domain names will be very popular in China, for example, while the US sports franchises have been quick to recognise the value of the sporting names."