An idiot registered last week 3 .science domains names are are being offered for free. He thinks that he can get $1,000,000 for each of them.
The domain names are isteve.science, stevenpauljobs.science and bill-gates.science.
The only one of the 3 domains that is resolving is stevenpauljobs.science that is for sale for $1,000,000. He even left out a zero… Look at his website: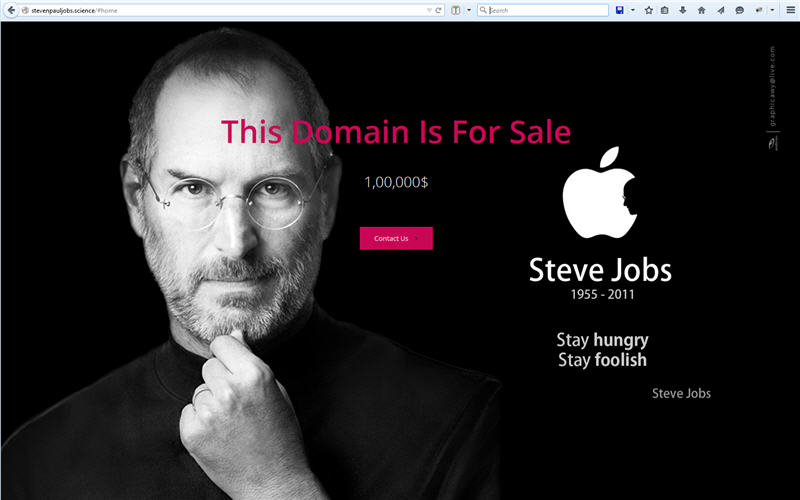 The only smart thing he did was use a fake name, address and phone number doing these registrations: John Doe.
Sad thing is that I was able to find his true name in 1 minute. He is from Bangladesh. I will not post his details but it is very easy to find.
He even made a post about his purchases on blackhatworld.com. First reply he got was $0. I think that was a pretty generous appraisal!
"But why? I saw stevenpauljobs.estate sold in 80,000 dollar… What about that???", he said.
He then claimed he sold bill-gates.science for $34,000 and even posted a fake sales record.
".science is the new trendy domain.
And to all posters in this thread I just sold bill-gates.science to a bill gates science club via after nic. He's going to wire me 34,000 Dollar. My asking price was 1 million. But caught in 34,000.
Cool huh???
Still waiting for my next two domains of Techmaster Stevejobs. I developed a site . Check it stevenpauljobs.science"
He finally wrote "i hate blackhatworld" and disappeared. (or was banned)
This reminds me of someone I loved that claimed a $80,000 offer…
This is what happens when you offer domain names for free. You get spammers, scammers, trademark infringement and worse. No wonder how .science has 240,149 domain name registrations today according to namestat.org. .Science is probably destroyed by this and will take years to recover, if ever.
But even ifyou don't offer domains for free you get the occasional "Dumbass Selling Lenovo.Solutions On eBay For $6 Million".