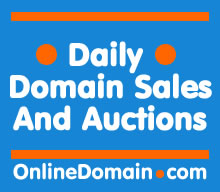 53 Teams Used A .CLUB Domain Name At The LAUNCH Hackathon (video)
Rightside Releases 20,000+ 2-Character Domains Today (Complete List)
Over 3,000 Premium .Cymru & .Wales Domains To be Released
I launched the "Deadbeat Buyers Database (DBBDB)" today. The first one in is Mr. Henry Porter from London, UK (#1).
New Go Daddy Ad Starring Jon Lovitz (video)
Donuts "Freedom of Choice" Ad Campaign Video
Sold The Domain Name City.Tips For 8,500 Euro ($9,335)
Click here to see all the old daily domain sale reports.
To newbies: these prices below are 99% WHOLESALE prices except for some sales at Sedo. Here are the top domain name sales and auctions from Sedo, Namejet, Snapnames, Go Daddy, Drop Catch and Flippa (please note that a lot of the domain names listed below have not been paid for yet):
Namejet Domain Auctions:
syby.com $620
| | |
| --- | --- |
| moviecamera.com | $3,050 |
| callu.com | $2,950 |
| wangchuan.com | $2,025 |
| greaterdanetag.org | $1,525 |
| guigao.com | $1,516 |
| doulun.com | $1,280 |
| whatsmyname.com | $1,225 |
| safl.com | $1,191 |
| dronetracker.com | $910 |
| decalstickers.com | $871 |
| propertytaxlist.com | $760 |
| freeautobot.com | $610 |
| gokitchenideas.com | $570 |
| printexchange.com | $440 |
| dwym.com | $405 |
| minniemouse.org | $394 |
| yogaforweightloss.com | $393 |
| positiveconnections.org | $361 |
| everythingtori.com | $355 |
| blockchainads.com | $350 |
| krsi.com | $333 |
| stylizehair.com | $331 |
| blockchainad.com | $305 |
| blogtoprofit.com | $305 |
| horseballs.com | $305 |
| mrdt.com | $305 |
| futcoinsbuy.com | $297 |
| hjhc.com | $293 |
| modularcloud.com | $280 |
| repletion.com | $278 |
| juicemeup.com | $260 |
| blockchainmarketing.com | $255 |
| blockchainadvertising.com | $250 |
| icetronauts.com | $245 |
| saveologyiceplex.com | $241 |
| diplomatic.net | $237 |
| santaspeaking.com | $206 |
| brandonjennings.com | $205 |
| cartinfo.org | $205 |
| webdesignertoronto.com | $202 |
| qlipso.com | $201 |
| hkyo.com | $194 |
| llzm.com | $193 |
| movierats.com | $187 |
| greentickets.com | $155 |
| shoefashionworld.com | $147 |
DropCatch Dropped Auctions:
AddictiveGames.com $7,553
Gono.com $7,200
51Toy.com $1,533
93333.net $361
BjRunningFestival.com $370
CHYF.com $305
HeLianna.com $381
Hg6312.com $161
Js777888.com $251
ladybar.com $134
Phprc.com $263
Profiterole.com $207
Qrpw.com $173
TowersOft.com $670
TpDesign.com $169
Vakat.com $114
Vapango.com $410
Wvov.com $154
Xpj0066.com $300
ZLTX.com $424
Flippa Domain Auctions:
Grammar.org $5,700
HashOils.com $4,250
Rules.net $3,750
Checking.net $2,725
Signup.org $2,100