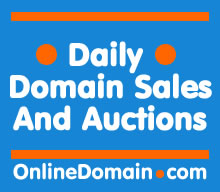 I launched the "Deadbeat Buyers Database (DBBDB)" today. The first one in is Mr. Henry Porter from London, UK (#1).
Nominet Seeking Feedback On .UK Whois & Registrars' Privacy Services
New Go Daddy Ad Starring Jon Lovitz (video)
Donuts "Freedom of Choice" Ad Campaign Video
New gTLDs Don't Have A Major Impact On Phishing Yet – 85% Of Phishing Domain Names Were Registered In China
Domaining Europe 2015 Updates Agenda (Jeffrey Sass Will Review .Club Year One)
Sold The Domain Name City.Tips For 8,500 Euro ($9,335)
Click here to see all the old daily domain sale reports.
To newbies: these prices below are 99% WHOLESALE prices except for some sales at Sedo. Here are the top domain name sales and auctions from Sedo, Namejet, Snapnames, Go Daddy, Drop Catch and Flippa (please note that a lot of the domain names listed below have not been paid for yet):
| | |
| --- | --- |
| keepapp.com | $4,150 |
| datie.com | $3,105 |
| successline.com | $2,950 |
| womanous.com | $2,700 |
| modularoffice.com | $1,625 |
| lifestylepets.com | $1,526 |
| gameinvest.com | $1,025 |
| hempoilpills.com | $835 |
| gamescruze.com | $833 |
| nyyn.com | $637 |
| ajisai.com | $550 |
| wellnessiowa.org | $530 |
| molinara.com | $511 |
| veteranservices.com | $404 |
| namevalues.com | $360 |
| twitxter.com | $355 |
| predents.com | $326 |
| kingdomreality.com | $290 |
| sabumusic.com | $288 |
| carlosserrano.com | $279 |
| gillean.com | $265 |
| srigurunanaksahib.org | $258 |
| blockchainindustry.com | $250 |
| motionoto.com | $225 |
| jkeg.com | $220 |
| hempoilsupplements.com | $205 |
| firstscan.com | $204 |
| creativejob.com | $157 |
| yreh.com | $155 |
DropCatch Dropped Auctions:
Mogensen.com $3,051
4C3c.com $119
AustinGdc.net $164
CheapApps.com $124
FacebookSex.com $105
Hitun.com $341
I-Kino.net $174
Myver.com $154
Pranaam.com $144
SloaneGroup.com $469
YunbaoxiaO.com $416
Flippa Domain Auctions:
sms.io $7,500
Torrie.com $3,256
chicagoapartmentsluxury.com $2,001
Cruisez.com $1,500
iptables.com $712
ScariestMovies.com $620
original.io $236
Amplifiers.us $220
Wantings.com $205