The domain names DomainName.guru and DomainNames.guru were registered today for $175 each at registrar Name.com.The 2 domains were part of a poll I ran last week asking how much one would pay for the domains. I chose these 2 domains because domainers are actually end users for these domains. The results from the 90 people who voted were: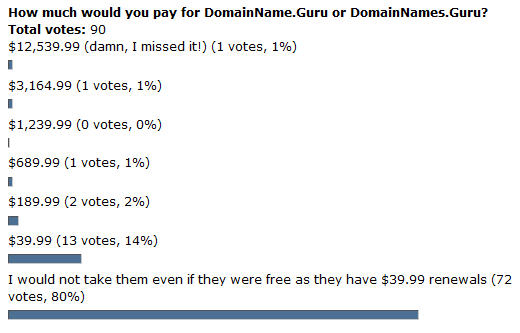 Of course the 2 votes for the 12k and the 3k were from jokers because when they voted time had passed and the price had already dropped to $689.99. The person with the $689.99 vote didn't buy any of the 2 domains and that left the 2 people that voted that they would pay $189.99 for each of the 2 domains. 14% of the votes said that they would only pay reg fee ($39.99) for the domains and a mind blowing 80% said that they wouldn't even take them for free as they didn't like the $39.99 renewals.
John Yeomans from EDGE CAPITAL eventually bought the 2 domains for $175 each today. I say eventually because the domains were sitting at this price for 2 days now and nobody had bought them.
Was this a good purchase? I think it all depends on what Donuts plans to do with domain.guru and domains.guru that are currently reserved. If Donuts plans to auction domain.guru and domains.guru then I think that John would have to buy these as well to have them as a set. If Donuts plans to use these 2 domains to market .guru then this could turn out to be a good purchase.