Sedo.tv sold 3 weeks ago at a Namejet auction after it expired. The winner ended up winning the auction with a high bid of $632. Winning bidder was a person from Turkey and he has put up a for sale lander with a $750 minimum offer.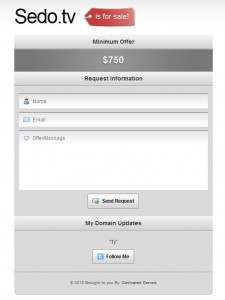 By coincidence I was looking at some "domain for sale" templates at Theme Forest last week and I remembered I saw this exact template for sale there. I decided to build my own on WordPress. The html template is here and it costs $4 for a single installation. The problem is that the owner of Sedo.tv installed the template and didn't change anything on it. Minimum offer is $750 that is the default in the template. He didn't even change the twitter link that points to the designer of the template. (The screenshot above that I took yesterday had that twitter link. Today it's gone.) So I not sure what's going on or how much he is asking for the domain.
The domain was owned by Sedo GmbH up until last year. It went into "Reactivation Period" last year, meaning it expired. Then it went behind Whois Privacy. I am not sure who owned the domain for the past year.