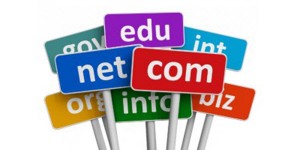 People are looking for real numbers regarding domain names so here they are! This is proof based on real business numbers.
Do you want more funding for your startup? Get a .com domain name! Simple as that!
John Matson and CENTR did an analysis based on data from www.crunchbase.com: ccTLD Choice for Startup Businesses: 2018 vs 2017 Analysis.
They analyzed domain name and their startup funding that included angel, seed, grant, crowd, private equity, debt, secondary market, initial coin offering, venture capital, post-IPO and corporate funding.
Startup Funding and TLD Market Share: Setting the Stage
In 2018, over $453B of startup to later stage company funding1 was committed to 22,934 companies with domain names in countries around the globe. CENTR asked: "What are the different ccTLD and gTLD market shares by number of startups and funding" and "will there be a substantial difference in TLD choice by total domain market share for a country versus startup businesses market share?"
At the end of 2018 there were 348M domain names comprised by 45% ccTLDs and 55% gTLDs, with .com having the dominant market share of 39% for a single TLD. Transitioning to the count of startups, the ccTLD market share decreased to 23% (5,379 startups). The funding market share of ccTLDs further reduced to 13% ($58B).
The drop in total domain market share from 45% to 23% likely reflects that startups may have greater global aspirations, resulting in a higher market share of .com choice.
Since 2016, startups with a domain name increased from 16,200 to 22,943; that is an increase of 41% over that period, or 18% in 2016-17 and 19% in 2017-18. However, during that same time, the market share across the categories of TLDs (.com, legacy gTLDs, new gTLDs and ccTLDs) remained fairly constant from year to year. ccTLDs comprised 23-24% of the startup companies each year and .com maintained a dominant share of around 70% each year.

However, funding shows a different story from 2016 to 2018. While the number of startups grew 41%, funding of those same startup companies grew 271% from $122B to $453B. ccTLDs increased their funding market share in 2017, growing 250% to $59B. However, ccTLD funding decreased by 3% in 2018, causing the associated ccTLD funding market share to drop from 23% to 13%.

But this last graph pretty much says it all: .com has a 39% market share, it is used by 69% of the startups and gets 82% of the funding!
Highest & Median Funded Examples
The table below contains example companies of the highest and median funding for each TLD category. The highest values are all over $1B and are mostly later stage companies that have raised significant outside funding in 2018 and prior years. The median companies are mostly startup businesses funded by angel investors, seed monies or crowd funding. The median funded value for CENTR Full members is $375K whereas the median .com value is $1.32M, 3.5 times that amount. CENTR Associate members had a median funded value of $613K, driven mostly by .cn. New gTLD startups had the lowest median funded value at $300K.

So if you want to take out outliers like antfin.com or uniper.energy then you need to look at the Median funding for each TLD category. .Com gets almost twice more funding then the second TLD category that are the Old (legacy) TLDs. ccTLDs follow and New gTLDs come last.
Still don't get it? See this graph: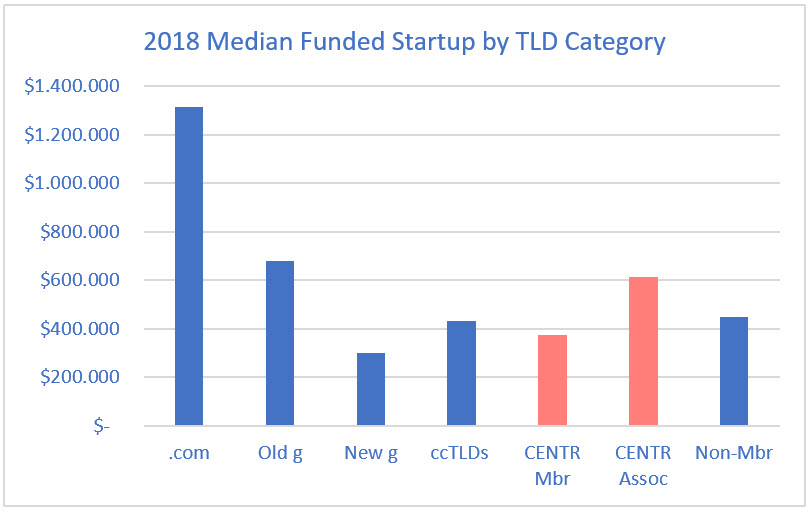 I know some people will say that companies with more money could afford the .com domain. I say that is plain BS. Any company with a $300k funding can afford a decent .com.
I say that a .com domain name simply makes you look better. Better in any way possible. And BETTER will bring you MORE money.