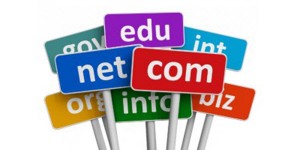 CENTR published its CENTRstats Global TLD Report quarterly publication covering status and trends in global top-level domains with a focus on European ccTLDs (country code top-level domains).
Global Market
The global TLD market is estimated at 348 million domains across all recorded TLDs. Although the overall domain count has continued to grow in all regions and types, the pace of growth has slowed considerably and, as of January 2019, it has seen its lowest recorded year-on-year rate of 3.7%*. While domain count and growth are not the only measurement of market health, they can provide an indication of general uptake and interest in domain names. At present the indication is a continued slow-down. This may be explained by multiple factors, such as a market saturation, alternative online presence choices (e.g. social media) or even a concentration of market share to fewer TLDs.
*refers to median growth of top 500 TLDs (by domains) with reliable data.
European ccTLDs
European ccTLDs saw a sharp decline in long-term growth trends towards the end of 2018, potentially due to higher rates of deletes over the year. Growth among ccTLDs in this region has followed similar patterns as the global market has also hit a new recorded low (2.0%, YOY). Despite the continued slow-down, market share indicators suggest that European ccTLDs are maintaining their local market strength. When looking at local registrations in European countries over all TLDs, the local ccTLD has an average 54% market share.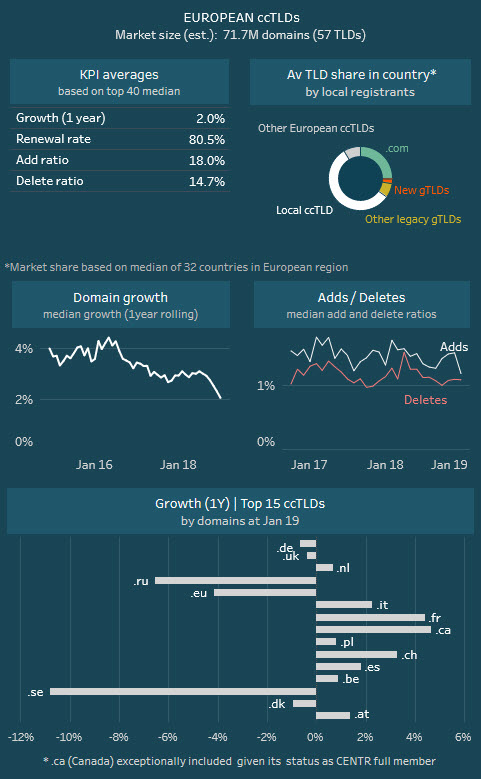 Global gTLDs
After the introduction of new gTLDs several years ago, the gTLD group has stabilised, recording a 1-year median growth of just over 5%. .com has around 72% of the market share of all gTLDs and shows no sign of change. New gTLDs represent around 12% of the gTLD market share, while the handful of other legacy gTLDs have seen a reduction of 2% from the same time a year ago, taking them to 17%.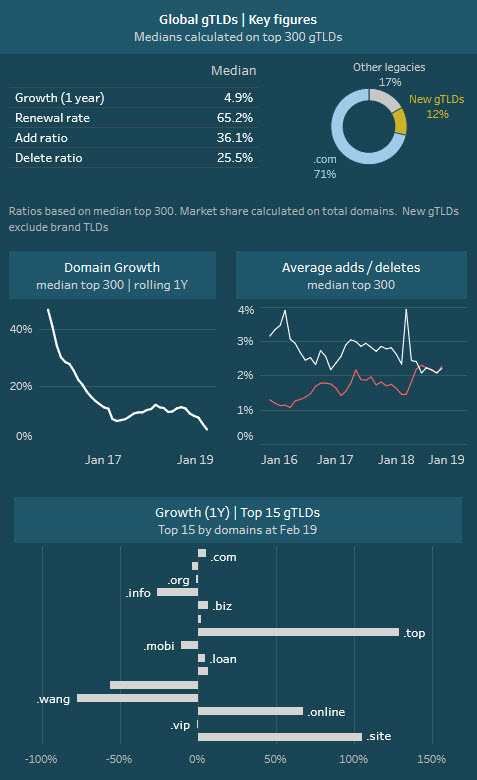 CENTR is the association of European country code top-level domain (ccTLD) registries, such as .de for Germany or .si for Slovenia. CENTR currently counts 55 full and 9 associate members – together, they are responsible for over 80% of all registered country code domain names worldwide. The objectives of CENTR are to promote and participate in the development of high standards and best practices among ccTLD registries.