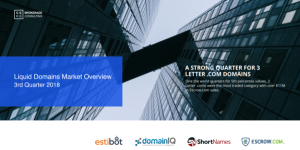 GGRG Brokerage Consulting and Giuseppe Graziano published the 3rd quarter of 2018 Liquid Domains Market Overview partnering with Escrow.com and Estibot's parent company Intelium and ShortNames.com.
This report is focused on 2018 Q3 and presents key statistics of the domains that are considered liquid in the domain name aftermarket. There are separate sections for each liquid domain name category: LL.com, LLL.com, LLLL.com / NN.com, NNN.com, NNNN.com, NNNNN.com / CC.com, CCC.com.
The report provides the percentage of domain name ownership of major regions (US, Europe, China, Rest Of the World, Private), development percentage, turnover, public sales volume, Escrow.com sales volume.
Highlights of this report include:
$16.7M in Escrow.com sales ($11.4M for 3L .com domains only!).
Liquidation values for the most traded categories.
3,475 disclosed transactions (0.57% turnover).
Performance comparison with global asset markets, including BTC.
$9.2M+ in publicly reported sales.
You can download the complete 18-page report here: http://ggrg.com/industry-report/
Here are some of the most interesting parts of Giuseppe Graziano's executive summary:
DEVELOPMENT INDEX AND OWNERSHIP DATA
The overall development index increased by 1.9%, with significant gains for 2 number and 4 letter .com categories. The most developed categories remain the 2Ls at 34.6%, followed by the 3Ls and 2Cs, both around 28%. With the exception of the 2Ns, the numeric domain categories maintain a development index under 10%.
SALES DATA
In Q3 the total volume of disclosed sales almost doubled from $5.4M to $9.2M. We also registered a 50% increase in the volume of escrow.com sales, which jumped from $12M to $16.7M. According to escrow.com, the most traded category were the 3L .com domains, with $11.4M in sales, followed by the 4Ls ($3.2M) and the 3Ns ($1.1M). According to ShortNames.com, the disclosed volumes for these categories showed a similar pattern with $5.2M for 3Ls, $1.7M for the 4Ls and almost $1M in 5Ns.
FORECAST
The copious inventory released to the market on Q3 had a positive impact on the sales volume but quite a negative impact on the floor prices, which, with the exception of 3Ls, registered significant double digit losses. The challenge for the last quarter of the year, which is typically a strong quarter for end-user activity, will be if the Western market manages to absorb the inventory being released for sale in China. Strong end user transaction might keep afloat the most developed categories, however, a potential increase in .com registration prices, to be decided in November, might have a negative long-term impact on the market. Caution is advised.
You can download the complete 18-page report here: http://ggrg.com/industry-report/