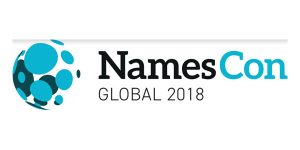 Here is a detailed look at the NamesCon 2018 Tool Talks that start today at 12pm and run until 5pm.
The detailed Tool Talks agenda was published just a few days ago and not many people have seen it as the detailed Tool Talk agenda can not be found on the NamesCon app.
To kick off NamesCon, there is an afternoon of fast-paced tool demos on the Breakout Stage. These demos will take place in 15-minute increments. Come and learn which products, services, and techniques can improve your business.
NamesCon Global 2018 Tool Talks
12:00pm – 12:15pm
Todd Han
Optimizing Domain Management – Dynadot
Join founder, Todd Han, as he tracks the unique growth of Dynadot from a one person shop in Silicon Valley to an international enterprise that has become a preferred registrar of domain investors across the world. By building intuitive and leading edge tools that allow customers to work smarter and easier with their domain portfolio, Dynadot provides a suite of products and services designed to meet the needs of the modern domain investor. In his presentation Todd will demo Dynadot's newest tool, an upgraded and redesigned control panel optimized for investors.
12:20pm – 12:35pm
Tony Kim
The Future of Domain Search – Hexonet
Delivering highly relevant domain name search results is a challenge for all registrars and resellers. Come learn how HEXONET is tackling this challenge head on and working to be at the forefront of delivering the most accurate and relevant domain name results customer want.
12:40pm – 12:55pm
Michael Halvorsen
A Tool to Improve Registry Growth and Insight – Registry Office AS
Join us for an introduction to RegistryOffice – a SaaS Business Intelligence platform for Domain Name Registries. In this session, we will address the many challenges that Registries face when trying to gain a more detailed  understanding of their sales channels, end users and the results of marketing efforts. We will also explain how the use of RegistryOffice can eliminate those challenges while at the same time providing valuable insights and increased growth.
1:00pm – 1:20pm
Short LUNCH BREAK
1:20pm – 1:35pm
The Power of Data – If You Can Measure, You Can Grow – Dataprovider
Dataprovider.com indexes and structures the global web provide you with actionable intelligence to help grow your domain business, increase revenues and create stronger partnerships.
We will show you how the data can help your business in the following areas: Customer Acquisition, Fight Churn, Increase ARPU (Average Revenue Per User), Find new Business Development partners, Support your channel partners.
1:40pm – 1:55pm
Become a B2C Registry – LogicBoxes
Apple Inc. has built a vast and reliable distribution channel tapping into the reach of e-commerce giants such as Amazon.com, Souq.com, and many alike. A similar strategy works for Nike and other consumer brands. Why did these brands invest in having their own outlets; and continue to do so when products were flying off the online shelves? Domains are a consumer product too and Aditya will be talking about how this strategy correlates with TLD Registries in his talk titled – 'Become a B2C Registry'.
2:00pm – 2:15pm
Business Optimization Tools for the Domain Professional – Web.com
Good tools are so important to get the job done!  Join us for a brief demonstration on how to manage your domain business from start to finish using the full suite of Web.com's domain services.
2:20pm – 2:35pm
Brandon Abbey & Scott Reynolds
Selling Domains with Confidence, anywhere in the world! – Payoneer Escrow
As a Domain Seller, Broker, or Buyer you want to ensure successful transactions, each and every time. Payoneer Escrow's licensed online escrow service enables you to securely sell domain names anywhere in the world, with multiple payment options.
Come hear from Scott Reynolds, Payoneer Escrow's co-founder and General Manager and, Brandon Abbey, Director, Strategic Accounts.  They will give a live demo of Payoneer Escrow @our Tool Talk session: Sunday, January 28th, at 2:20pm.  Find out why Payoneer Escrow is quickly becoming the "Go To" escrow service for many domainers.
2:40pm – 2:55pm
DomainToken: The Secure Addressing Protocol – Embermine
Domain Token is a multi-communication protocol management token that will provide singular and fully customizable addressing for all forms of electronic addressing and routing. By utilizing encryption and a sophisticated but easy-to-manage interface, users can manage the secure electronic routing of all communication to one verifiable digital address that is both transparent and private.
Top 10 Tips for Startups Trying to Raise Their Seed Round – Bold Metrics
In this session Morgan will share some of the key tools and lessons learned raising venture funding for Bold Metrics, a machine learning startup that now works with some of the largest apparel brands in the world. From tools to research new investors, to tools for keeping track of investor conversations and feedback, you should walk away from this session with a foundational understanding of how you can structure and organize a venture-backed seed round for your startup.
Rediscover the Power of WordPress Using BoldGrid – BoldGrid
A suite of plugins by BoldGrid makes WordPress even easier and more powerful than ever. With tools like drag-and- drop design, a built-in staging environment, automated backups, and more, BoldGrid has revolutionized the way people build and maintain their WordPress websites. In this discussion, BoldGrid Brand Evangelist MikeDemo walks you through the various parts of the BoldGrid suite, explaining why they chose to develop these tools, how they impact site owners, and what tools like these represent for the future of WordPress. Learn how to use these potent tools and why BoldGrid represents the leading edge of a new movement in the WordPress and open-source software communities.
Jeff Sass & Colin Campbell
.CLUB Press Conference – .CLUB  
An exciting announcement from .CLUB!
4:00pm – 4:15pm
Verisign NameStudio API-Verisign
A smart API solution built to deliver relevant domain name suggestions that can help drive registrations more quickly.
2018: ARPU Matters-Perfect Dashboard
Income streams from existing customers. Learn how to create value and revenue in cost centers and monetize the service and maintenance departments within your organization
Become an Openprovider member and get our products at COST PRICE!-Openprovider
Our membership plans give you access to all our main products at cost price: Domains (including all new gTLDs), SSL certificates, SpamExperts spam filtering, Plesk, Virtuozzo & PowerPanel licenses. We offer an automated platform through which you can purchase and manage all our products and services.