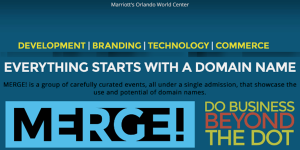 MERGE! is an industry event that is an independent show designed to host and provide a shared access pass to groups of related events – all about a common focus: Using Domain Names, Digital Branding, and Opportunity. MERGE! will be held at the Marriott World Center in Orlando, Florida, from October 14 to 18th.
With focused sessions and sub-conferences under a single ticket, the event is designed to attract like minded professionals and emerging talents across different disciplines so they can meet, network, and grow from the show experience.
MERGE! will feature experts sharing their strengths attracting talented entrepreneurs, investors, developers and designers, venture capital and technologists.
MERGE! will host multiple events, gatherings, and groups across content areas that all surround the utility of branding, marketing, and technology – domain names, development and content tools, emerging technologies, and entrepreneurial prowess.
MERGE.DOMAINS :  THE Domain Conference
A continuation of a legacy of more than a decade of domain industry, investment, and opportunity with domains and networking.
MERGE.LEGAL :  McGrady Domain Academy
Featuring Paul D. McGrady, Partner at Winston & Strawn's Chicago Office and Author of McGrady on Domain Names and McGrady on Social Media from LexisNexis
MERGE.BUILD : CMS Summit
Content Management Systems (CMS) like WordPress, Joomla, Magento, Drupal, and DotNetNuke are used widely for everything from blogs to large corporate presences. Meet and talk with the makers, developers, and trainers at CMS Summit.
MERGE.LIVE : Live Casting
Content and materials, conference experiences, and event satisfaction are always enriched by the ability to participate live and remote. Learn from experts on integrating live content with recorded and post-production materials, and engaging with larger audiences using live capabilities like periscope, fb live and more
MERGE.TECH : Blockchain Roadshow
Blockchain – made popular by cryptocurrency events like the wild rush to etherium and the rise of BitCoin – is here to stay. Learn from Blockchain experts on the innovation and future trends to watch for in the not too distant future.
MERGE.MONEY :
Funding, Venture, and Startup $$$ Is crowdfunding your venture the right approach? What about taking in that Angel or VC funding for the project that you're creating? Learn from some of our expert speakers on when to bring in the infusions, what it costs, and what to watch for.
Info and Registration
Get your tickets now while they are still at the discounted Summer rate of $499.00 plus tax. Just go to www.merge.show and register.
Finally, MERGE! has obtained a special rate for hotel rooms at the Marriott World Center. Rooms are normally $300 + per night, but you can register your rooms now at the discounted price of $129.00 per night and the hotel has waived its $25 resort fee for MERGE! attendees. However, the hotel fills up fast and there are a limited number of rooms available.