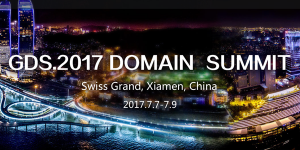 The GDS (Global Domain Summit) 2017 event is now only a couple of weeks away.
GDS 2016 was the first year the meeting was held. It was staged in Hangzhou, which is a beautiful Chinese city known for its ancient West Lake. There is an old Chinese saying, that young men should exercise extreme caution when visiting Hangzhou, because they will surely fall in love and never return home.
The 2016 event was attended by 1,000 domain industry people. The event was actually invite-only, and it was interesting to see a few particularly bad apples of the Chinese domaining industry not be invited.
To preview the 2017 event, which runs Friday July 7 through Sunday July 9 in Xiamen, a video interview with Jason Feng was produced, who's the driving force behind the event. Jason's main gig is running the domain investment unit of BizCN (which listed on the Beijing stock exchange in 2016). Allegravita produced the video and has also been appointed "Principal Foreign Partner" for GDS 2017.
You can watch the preview video here: