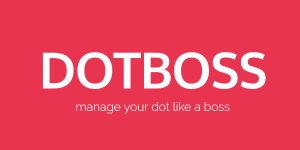 DotBoss is a new software that is crafted and designed with domain management in mind, specializing in the optimization of domain portfolios of any size with unique publishing, development and auction features.
Long time reader and commentator on OnlineDomain.com, Sergio Abrahao, was nice enough to explain us what DotBoss does. Sergio was/is the main developer of the software than runs DotBoss and is also a domain name investor. The company is located in Canada.
DotBoss offers:
solutions to everyday domain management challenges
a responsive dashboard with easy wizards
bulk email inbox creation
batch processing across your portfolio for fast website building and landing page distribution
publishing tools help create content, landers and marketplaces
create your own auction platform
and many other features found here
DotBoss can be found at the domain name dotboss.digital. (No, there is no .Boss New gTLD!) BTW the company also owns the domain name Dotbossdigital.com.
DOTBOSS wants to give you the opportunity to successfully optimize your domains and maximize your asset management. Take a look at the video below for a quick introduction and read below what Sergio told OnlineDomain.com.
---
Here is what Sergio said about this new and very promising service:
Description of Services
The main idea is to have the ability of taking bulk actions and visualising domain(s) from one dashboard. Copy and Paste the domains and all the other information will be automatically populated, just like that.
Controlling what?
-Server/Hosting: dns records, redirections, subdmains, stats, real time stats
-Optimisation: auto-seo measurements(exposure, auto-rotation, auto-reporting, auto-screenshooting and history builder), generic auto-generated landers, custom websites, portals
-Moneytisation: Ability to easily plug Ad Servers APIs such as Google AdSense, AdCash,etc across the portfolio, Double-Parking ( Parking the main domain at an external platform but retaining the email and subdomain publishing abilities -for the benefit of driving organic traffic from the subdomains to the parked main domain and having access to real time stats ), Auction-off domains by auto-publishing an auction platform (included),
All of the above abilities are also available via REST APIs. Also worth noting that the publishing mechanism lies behind the concept that a website needs to have unique content, and each domain gets its own object that grows over time (never overwrite but add a better layer), which allows for a very impressive history built of the domain, which will greatly benefit the seller when the time comes to sell. I dont want to overwhelm your readers with a lot of technical details but I would be happy to expand on everything technical, if asked !
How and why
I'm a domain investor and 3 years ago my portfolio reached a volume that I no longer could count with a spreadsheet; I looked around and could not find any tools to deal with so many domains and ideas. For example: adding multiple domains to cpanel/hosting is a pain, so I developed a workaround allowing me to add multiple domain at the same time. That was the first feature. Slowly as I developed more and more tools, I realised I would have to do this full-time, So I decided to do it full time and some 76 features later, I also realised we needed money. We found business partners and our business partners found investors, and that is how we came about to be. At this point there are 7 people in our organisation.
Development process
In the past it was me in the basement doing a tool for my own portfolio, but now we have developers in 3 different countries and proper processes such as software versioning and software design meetings, time prioritisation and most importantly: we take feedback from our customers very seriously and try to provide a catered service experience.
For example, if we all approve a new idea, this idea will be extensely talked about and researched before anyone starts coding, and that includes all the non-technical people from our organisation as well, whom I have been learning valuable lessons on time-prioritisation and the necessity of focusing on usability.
Pricing
Our Model is Software as a Service, and currently for $21,95 USD one can add up to one-thousand domains to the platform and enjoy all its benefits. The price scales up as more domains are added.
Statements
The foundamental statement is that a Domain should be developed, with unique content as by the end of the optmisation chances are that you will sell the domain but if not then there is a good chance that the domain may become a business itself, or to the very least it will have some sort of income that does not rely in 3rd parties or middlemen, even if only serving api driven ads -and dotboss.digital allows a name investor to do just that and without spending huges amount of time per domain.
Future Plans
Not all the features that I developed were released in the initial public version so right now we are working on bringing some of these features to the new release, such as:
-Ability to control registrar transfers
-Enhanced royalty-free "Deploy Auction Platform"
-Hundreds of new responsive templates to be used a custom website or generic landers (and the ability to easily plug existing open sourced themes into your landing )
-Enhanced auto-content creation
-Support to GeckoAPI ( GitHub's hosting architecture )
-Drag and Drop data chuncks from webservers such as Apache, without the need of a shell prompt
-Hire more developers
-German, Chinese, Italian, Spanish, Portuguese and French support ( IDN domains )
-Task scheduling
-6 other royalty-free "deploy portals"
Every single feature above is superseded by our current biggest priority: Usability !
---
DOTBOSS pricing starts at $21,95 per month for 1,000 domain names. It costs $129 per month for 5,000 domains and $239 for 10,000 domains. DOTBOSS offers custom licensing for users with over 10,000 domains. Hosting costs an extra $10/mo and you get free SSL Certificates on your domains.
You can request a demo by emailing Sergio at "SERGIO (@) ID .VENTURES".
You can access the DotBoss user guide at user.guide.
Here are a few more videos describing the DotBoss services: