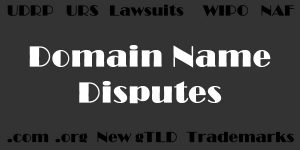 Michael Gleissner owner of several companies such as Bigfoot, Fashion One Television, and CKL Holdings lost its 6th UDRP complaint for the domain name imod.com.
The slaps keep coming their way. Just this week they had their 5th UDRP complaint for the domain name flammea.com. They still have a UDRP pending for the domain name mclip.com. (and maybe more)
This is the 6th UDRP complaint that Michael Gleissner and his many companies have lost and they have zero (0) wins so far.
They have also terminated 4 UDRP complaints after they realized they could not win including the domain name zero.com that is owned by Google and apollo.com. Just this last week they also terminated the complaint for the domain name gerodi.com.
Michael Gleissner is filing these frivolous complaints with the help of his thousands shell companies and his hundreds of questionable trademarks all over the world.
Of course this all would not be possible without the help of his in house counsel at Bigfoot Entertainment, Jonathan Grant Morton and Roman Popov, and his trusted Trademarks Manager Marco Notarnicola. Marco claimed to be an expert in "manipulation of TMs and common law marks to achieve UDRP "reverse domain name hijacking" in his LinkedIn profile. (He has since changed that to "administration of trademarks and domains mechanics involving UDRP procedures." but the screenshots will live forever.)
The imod.com complaint was brought at WIPO and it was against the owner of the domain name that is Qualcomm Inc. The domain name redirects to a webpage at qualcomm.com.
This was a clear cut case of reverse domain name hijacking but the sole panelist did not consider RDNH as the respondent didn't ask for it apparently.
Michael Gleissner and one his thousands companies (this time it was a UK shell company named American Franchise Marketing Limited) tried to steal the domain name from its rightful owner using a European Union Trademark Registration No. 005126561 for the standard character mark IMOD, filed on June 9, 2006 and registered on July 17, 2009, for "clothing, footwear, and headgear" in class 25. The owner registered the domain name long before that.
The Panel concluded that the Respondent has rights and legitimate interests in the disputed domain name and that the Respondent registered and/or used the disputed domain name without the intention to target the Complainant and its trademark. So the complaint was of course denied.