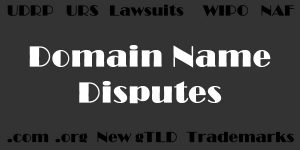 Tucows filed an Ontario lawsuit to halt the transfer of the domain name Hayter.com and to stop the UDRP proceedings.
Tucows, an ICANN accredited registrar, is also the owner of a big portfolio of domain names mainly consisting of surnames.
A Uniform Domain-name Dispute-Resolution Policy (UDRP) complaint was filed at the National Arbitration Forum (NAF) from Complainant Hayter Limited against Tucows.com Co requesting the transfer of the domain name Hayter.com. The complainant holds a trademark for the HAYTER mark registered on May 15, 2001. The domain name hayter.com was registered in 1996.
Tucows requested that the Panel would dismiss or suspend the proceeding under UDRP Rule 18(a), until such time as a final judgment is issued in the pending Ontario litigation. That is the reason that Tucows did not make a request for a 3-member panel.
Tucows asserted that the UDRP was commenced on May 12, 2015, with a response due from the Respondent before June 1, 2016. On May 25, 2016, – prior to the submission of the response – Respondent filed a civil action against the Complainant in the Ontario Superior Court of Justice seeking a declaration that the Respondent's use of the domain name at issue is non-infringing. Among the other relief sought in Respondents' Statement of Claim, Respondent seeks a declaration that he has rights and legitimate interests in the domain name hayter.com and that he neither registered nor uses the domain name in bad faith.
Respondent argued that, the court in Ontario, Canada will address and resolve the same issues now before the UDRP Panel. Because the ruling of the Ontario court will take precedence over any ruling by the UDRP Panel, the complaint should be suspended or terminated.
In the response and Request for Dismissal the Respondent attached a copy of the Complaint No. CV-16-553435 filed with the Ontario Superior Court of Justice.
The UDRP Panel (Dr. Katalin Szamosi, Panelist) found this complaint should not be decided until the court proceeding is resolved. The Panel ordered that the Complaint is DISMISSED without prejudice to Complainant bringing a further proceeding in the event the pending court action does not resolve the dispute over the domain name.
(Hat tip to George Kirikos of Leap.com.)