Squarespace announced the launch of Squarespace Domains,  that allows its customers to buy their domain names without leaving the Squarespace website.
Squarespace has been known for building websites for more than 10 years but now you can browse over 200 domain extensions and purchase your domain without creating your website.
Prices start at $20 per year and every domain name includes an ad-free parking page and optional WHOIS privacy at no additional cost. Domain name will always renew at the same price as the registration cost.
Many domain registrars offer services called "domain privacy," "whois protection," or "private registration" that remove your personal contact information from the Whois record. Since these records are public, spam marketers often crawl them for email addresses. There are some extensions, like .us, that will not allow whois privacy.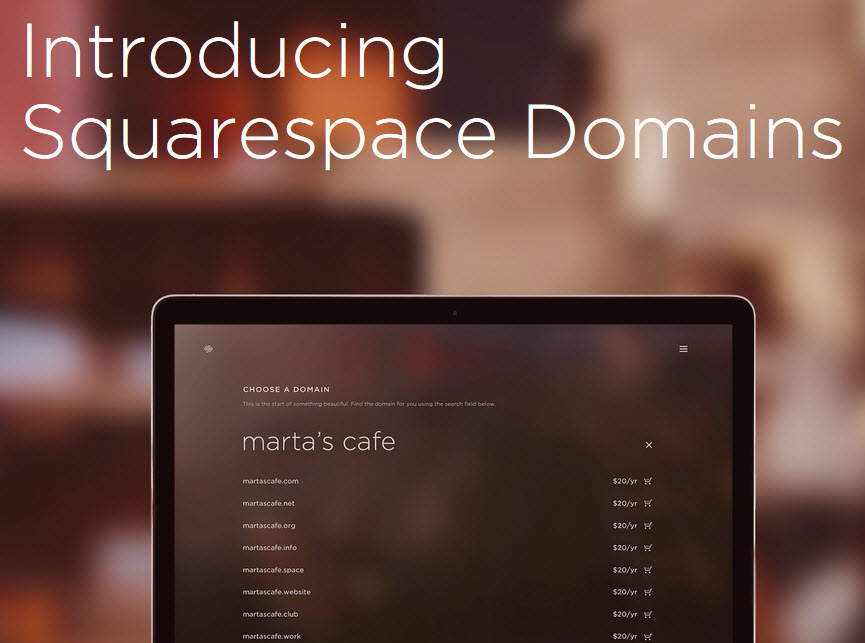 Squarespace charges between $20 and $70 a year per domain name depending on the extension.
If you purchase a domain from Squarespace, you'll be able to upgrade to Squarespace suite of website creation products and enable Google Apps for your domain (business email, calendar, storage, etc.) with zero technical configuration.
Old Squarespace customers can continue to buy domains through their website's Domains panel. Transferring your domain name from a different registrar to Squarespace is not an option yet but it will be soon.

Squarespace Domains just had a soft launch just a few days ago. Squarespace promises more features in the coming months.