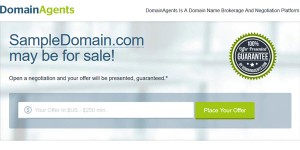 DomainAgents, the domain name negotiation platform, released a fully redesigned website and marketplace and created new domain name landers.
The new DomainAgents website was developed to be a flexible platform that is intended to grow with the company and its users over the coming years.
Sample Domain Owner Landers:
BIN: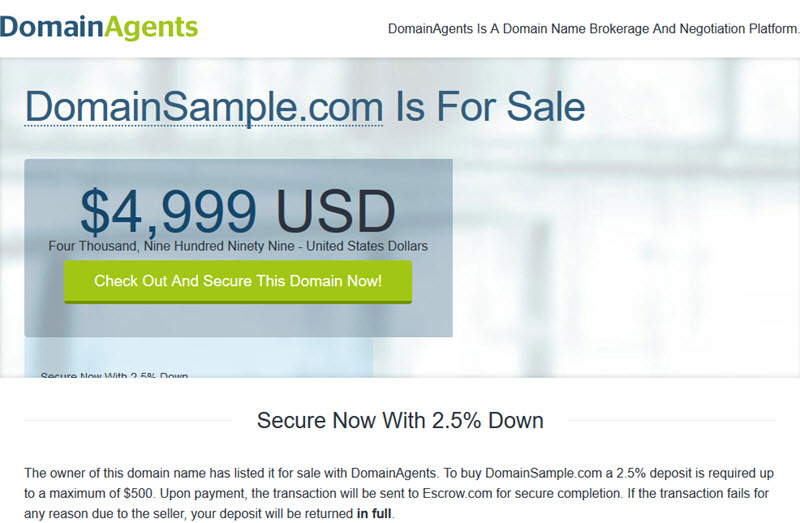 Make Offer:
"Planning for the next phase of DomainAgents has been in the works since we released the Marketplace feature last year. We've been focused on creating the premier Negotiation Platform and Marketplace for both domain owners and end users," said Phil McKegney, CEO of DomainAgents.
DomainAgents works with thousands of buyers and sellers each month to provide a secure and low-friction process to negotiate and complete domain name transactions. The Marketplace feature was added to the site during the summer of 2015 and is prominent in the new design.
"By focusing on our core products and strengths we've avoided the common pitfalls of spreading ourselves thin," McKegney said. "We've worked directly with domain buyers and owners to craft the best Negotiation and Marketplace experience in the domain industry."
DomainAgents Fees & Revenue Share details:
Domain Owner Revenue Share
By using DomainAgents to sell your own domain names, you will earn $10 for engaging in negotiation and a 50% revenue share on the commission DomainAgents receives connected to the sale of your domain.
Buyer Referral Program / Recurring Revenue Share 
Refer buyers to DomainAgents via your custom link and you will earn $5 per paid negotiation. You will also earn a 25% revenue share on the commission DomainAgents receives from any purchases your referrals make within the first 6 months.
DomainAgents Seller Fees
| | |
| --- | --- |
| Negotiated Sale | None, Buyer Assumes All Fees |
| BIN Sale – Via Owner's Link | 10% – $500 Cap |
| BIN Sale – Non-Owner Sourced | 10% |
Seller Escrow Fees
| | |
| --- | --- |
| Negotiated Sale | None, Buyer Assumes All Fees |
| BIN Sale – Via Owner's Link | 50% of Escrow.com's Fees |
| BIN Sale – Non-Owner Sourced | 50% of Escrow.com's Fees |
Negotiated Purchase Buyer Fees
| | |
| --- | --- |
| $10,000 USD & Under | 10% |
| $10,001 – $50,000 | $1,000 + 7.5% on amount above $10,000 |
| $50,001 – $100,000 | $4,000 + 5% on amount above $50,000 |
| $100,001+ | $6,500 + 2.5% on amount above $100,000 |
Buy It Now Buyer Fees
| | |
| --- | --- |
| Any Purchase Price | None, Seller Assumes Fees |
Buyer Escrow Fees
| | |
| --- | --- |
| Negotiated Sale | 3.25% – 0.89% ($25 Min) |
| BIN Sale | 50% of Escrow.com's Fees |
The new design and Marketplace features can be seen now at www.domainagents.com