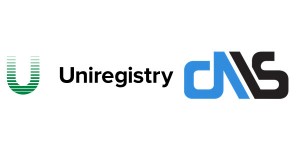 Uniregistry launched the new Uniregistry Market today. This starts a process where eventually DomainNameSales.com will be replaced by the Uniregistry Market.
In order to sign up you have to log into your Uniregistry account, click on "Market" and accept the new terms.
DomainNameSales is evolving into Uniregistry Market. Uniregistry Market claims to offer you powerful tools that save you time:
Same solid foundation as DomainNameSales, faster tools, instant insights, and an up-to-date modern user experience.  We think you're going to love it. The best bit… we're just getting started.
Once you accept the Uniregistry Market terms you will be asked to link your DomainNameSales account. If you have a DomainNameSales account, enter your login there and you will get instant access to your existing domains and settings.
Any changes you make or inquiries you receive will be reflected across both platforms. But the plan is that once matured Uniregistry Market will replace DomainNameSales.

The easiest way to
buy & sell domains
Our specialized tools make buying, selling and transacting a breeze. Whether you're a beginner or a seasoned pro, we assure you, you've never had tools as easy as this.
The best domain negotiation
platform on the planet
We close the information gap. Sellers get historical figures and up to date appraisals, and buyers get everything they need to make an informed purchase.
Did we mention it's free?
Jump right in. Buyers and sellers may negotiate directly free of charge. Have as many conversations as you want.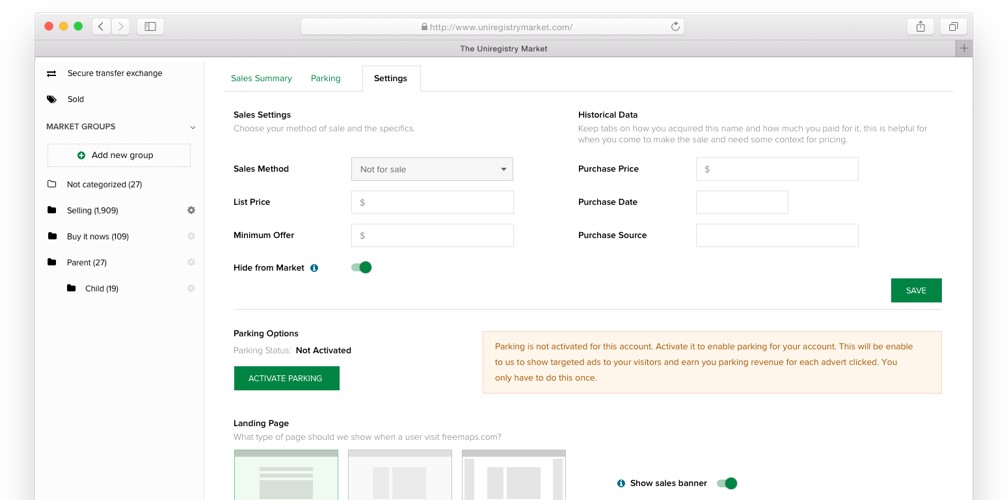 Seamless setup
If you already have a DNS account, simply log in to Uniregistry and link to it. This will give you access to all your inquiries right there in the Market. Like we said – seamless setup.
One inquiry or a million, tools that scale
Managing a portfolio shouldn't be challenging. We give you a complete platform capable of selling from the largest portfolios on the planet. So whether you have a single domain or thousands, you'll never be lost with us.
Sell your way
List them for sale, mark them for offer only, or just plain ol' park them to watch the revenue roll in – we don't dictate
how you use your domains. We do, however, give you a complete set of tools so that whatever you decide to do can be done.
Instant completion
Your domains really are more valuable with us. Domains that live at Uniregistry with a "buy it now" price are eligible for instant checkout through our Registrar. Once added to the market, anyone can find your domains with a simple search from our homepage – checkout is instant and easy.
An inbox for everything
Manage all your sales inquiries with ease using a sales inbox designed specifically for the process of selling domains.  Reply, set reminders, quote prices, and do it all from a single interface. Act on individual requests or use our powerful bulk tools to manage everything in an instant.
Checkout for all
Accept the deal, send the checkout link, then kick back and relax. We've built our Secure Exchange technology into the Market – that means we take care of everything from the time you say 'It's a deal' to the time the funds are received into your account. Complete sales with ease.
Did we mention that we'll even help you out with credit card payments, wire transfers, and payment plans? We want you to sell your domains as much as you do.
Welcome to the future of domain name sales.