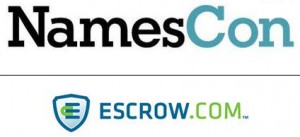 Tthe NamesCon 2016 auction made $1,495,400 selling 92 of the 131 domain names.
The highest sale was Lawn.com that went for $240,000. Most of New gTLDs in the auction sold and were sold for good money. Check out Sold.Domains for more.
The silent auction that will last 10 days has already started.
Here are the official NamesCon 2016 domain name auction results as published by Namejet:
| | |
| --- | --- |
| Domain | Price |
| lawn.com | $240,000 |
| tuscany.com | $157,500 |
| penis.com | $110,000 |
| erotica.com | $80,000 |
| 88.xyz | $70,000 |
| web.hosting | $52,500 |
| ius.com | $40,000 |
| bef.com | $38,000 |
| consignment.com | $34,000 |
| eqz.com | $33,000 |
| nachos.com | $33,000 |
| opx.com | $32,500 |
| egf.com | $30,200 |
| southamerica.com | $30,000 |
| katie.com | $30,000 |
| oah.com | $26,000 |
| qgi.com | $25,000 |
| healthyfood.com | $20,000 |
| stock.photo | $16,000 |
| 8.link | $14,500 |
| spew.com | $14,000 |
| housewives.com | $13,000 |
| hd.tv | $12,000 |
| night.club | $12,000 |
| jet.ski | $12,000 |
| buy.cars | $11,000 |
| 98.tv | $10,000 |
| strip.club | $10,000 |
| pot.club | $10,000 |
| wrappers.com | $10,000 |
| smart.watch | $9,500 |
| glowsticks.com | $9,000 |
| athletic.club | $9,000 |
| i.rent | $9,000 |
| wedding.gift | $8,500 |
| i.link | $8,250 |
| i.click | $8,000 |
| worldgames.com | $8,000 |
| e.gift | $8,000 |
| cccf.com | $7,900 |
| investment.property | $7,000 |
| noja.com | $6,500 |
| septictank.com | $6,100 |
| multilevel.com | $5,500 |
| metrocard.com | $5,500 |
| thequeen.com | $5,500 |
| evileye.com | $5,500 |
| boobs.net | $5,500 |
| closetorganizer.com | $5,500 |
| nannycams.com | $5,000 |
| e.help | $5,000 |
| lasvegas.online | $4,750 |
| beachfront.property | $4,750 |
| e.flowers | $4,500 |
| gameonline.com | $4,250 |
| convict.com | $4,250 |
| dessertwine.com | $4,000 |
| cmfr.com | $4,000 |
| space.club | $3,750 |
| trailertrash.com | $3,750 |
| viral.video | $3,500 |
| cheaplaptops.com | $3,500 |
| 180.xyz | $3,500 |
| cmas.com | $3,500 |
| ngrt.com | $3,500 |
| i.ski | $3,250 |
| artlessons.com | $3,000 |
| rrcx.com | $3,000 |
| lgff.com | $3,000 |
| we.help | $3,000 |
| housingloans.com | $3,000 |
| mlbb.com | $3,000 |
| ccjp.com | $3,000 |
| jdzl.com | $3,000 |
| saae.com | $3,000 |
| water.ski | $2,750 |
| toytrucks.com | $2,750 |
| b.sexy | $2,750 |
| pxff.com | $2,500 |
| too.sexy | $2,500 |
| zsmt.com | $2,500 |
| vintage.auto | $2,250 |
| fastdelivery.com | $2,200 |
| xgrs.com | $2,200 |
| bosses.com | $2,000 |
| electric.guitars | $2,000 |
| seventies.com | $2,000 |
| 787.org | $1,900 |
| paleo.diet | $1,700 |
| doctorlove.com | $1,500 |
| externaldrives.com | $1,200 |
| funtimes.com | $1,000 |