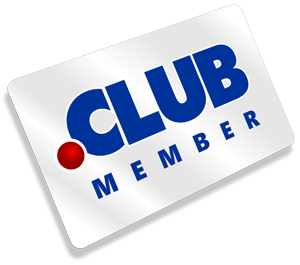 The .CLUB Registry has decided to release almost 8,000 of their Premium reserved domain names through registrars.
Up until now premium .Club domain names were only being offered by Sedo.
On July 1st, 2015, the .CLUB registry will be releasing its premium reserved domains to its big list of accredited registrars.
.Club currently has 248,661 domain name registrations. (according to Namestat.org) The number must be well over 250k with we add the domains that don't have a nameservers and don't appear into the zone file. It is ranked 4th among New gTLDs but it is the only extension among the top 5 that all its domains have been paid for.
.Club is one of the most registrar friendly New gTLD registries as it is one of the few that offer fixed price registrations and renewals.
This move will give .Club more distribution channels that will allow more Premium .Club domain names to be sold.
This will offer buyers real-time availability of .Club domain names so they don't have to visit Sedo to make the search. And this is quite important because the majority of the premium .Club domains are not registered. So people can't just visit the domain name and then get redirected to an aftermarket of a registrar.
Registry pricing for .CLUB Premium domain names are split into nine (9) pricing tiers ranging from $100 to $10,000 with renewals being processed at standard regular fees. .Club does not have any premium renewal fees.
Sold.Domains shows that there are 85 public .Club domain name sales until the time of writing.
I compiled a list of 20 of the best .Club domain names that are available for prices from $1,500 and up to $5,000.
This is the complete list of the premium .Club domains that will soon be offered by registrars.