The domain name ShipYourEnemiesGlitter.com and accompanying website is being auctioned at Flippa.
The website has gone viral and has already been featured in Entrepreneur Magazine, Time Magazine, Yahoo, USA Today, Slate, DailyMail, FastCompany, Mashable, and more.
The website's tagline is "We Send Glitter To The People You Hate" and it promises to send your enemies glitter filled letters and piss them off.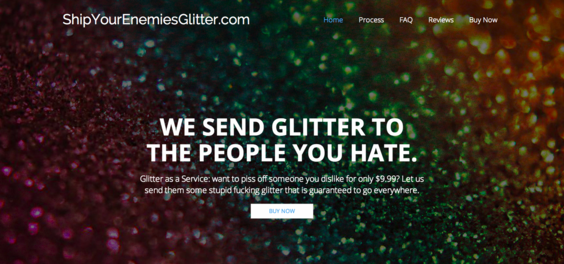 The seller Mathew Carpenter comes from Newcastle, Australia and says he is a 22 year old entrepreneur that has been building websites for the past 5 years.
ShipYourEnemiesGlitter.com is a website that allows users to purchase an envelope filled with glitter that is sent to one of their enemies for only $9.99. Although the idea is a bit farfetched, it's caught on in a big way. After being launched on January 12th of this month it has seen over 2,500,000 visitors, received over 415,000 mentions on Facebook & Twitter & has been featured all over the world both online, in print, on the radio, on TV & even on late night talkshows.
After being online for only a few hours, the website had received over 2,000 orders generating just over $20,000AUD. Somewhat overwhelmed, the owner then decided to take the ability to order down despite receiving thousands of emails & tweets from people wanting to purchase.
He says that the total cost of shipping an envelope filled with the glitter & the A4 letter to most places in the world from Australia ranges anywhere from $2-$4. That leaves $5.99 to $7.99 profit on each order.
He offers the prospective buyer a Google Analytics reports along with all Paypal orders.
The auction ends in 5 days and is already at $61,100 after 329 bids. Glitter anyone?