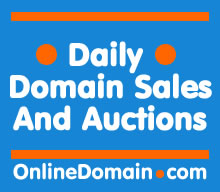 Second day at NamesCon 2015 was crazy. A lot of sessions are happening at the same time, booths are open and everybody is having a great time. This report is a bit late but all of you here in Las Vegas can understand why.
Donuts made over $130,000 on Sunrise and the first 5 days of the EAP for .World.
Go Daddy added a new bidder verification process for GoDaddy auctions but I am not sure it is enough.
See here The 13 Most Expensive & Developed New gTLD Domains Of 2014 with screenshots of the websites included in the article.
Here is a poll with over 480 votes so far: "Are You Renewing Your New gTLD Domains?". Looking to reach 500 votes so please vote here:
[cardoza_wp_poll id=7]
Click here to see all the old daily domain sale reports.
Here are yesterday's domain sales and auctions from Sedo, Namejet, Snapnames, Go Daddy, Drop Catch and Flippa (please note that a lot of the domain names listed below have not been paid for yet):
Namejet Domain Auctions:
rothwell.com $8,100
syntegrity.com $4,122
schoolnews.com $3,000
ybb.org $435
k9o.com $370
chidrenstories.com $310
Snapnames Domain Auctions:
I am now banned (waiting for an explanation but I don't think I am getting any, more on this coming soon)

| | |
| --- | --- |
| 9pirates.com | $4000 |
| marijuanasupplies.com | $2159 |
| readytravel.com | $1125 |
| tvmongol.com | $1028 |
| interior-designs.com | $770 |
| architechweb.com | $630 |
| 28863.com | $601 |
| vaporizer.info | $565 |
| maisonakira.com | $475 |
| pmpro.com | $432 |
| javasian.com | $414 |
| hokuseisushi.com | $376 |
| fun-apps.info | $362 |
| survivalfood.net | $355 |
| theriverheadproject.com | $347 |
| pahei.com | $338 |
| arvayfinlay.com | $245 |
| k0z.com | $227 |
| goldtax.com | $222 |
| breastwork.com | $215 |
| longislandwebsites.com | $210 |
| admiresoft.com | $206 |
| zahh.com | $171 |
| kangarooisland.org | $155 |
| mwge.com | $150 |
| teachmehowtomakemoney.com | $150 |
| istalkr.com | $135 |
| 800fabrics.com | $135 |
| northflame.com | $129 |
| calling-cards-4-you.com | $126 |
| pkgz.com | $121 |
| manzodental.com | $116 |
| ceilingfanwebsite.com | $116 |
| tyey.com | $115 |
| yemektarifleriniz.com | $110 |
| senatormarkgrisanti.com | $110 |
| ubidesk.com | $106 |
| ccifq.org | $105 |
| maxrep.com | $105 |
| lapromesadelgobiernoabierto.info | $105 |
| pavestoneatlanta.com | $105 |
| theunclogblog.com | $105 |
| senan-architects.com | $105 |
| themes4you.net | $100 |
| meishi265.com | $97 |
| pizzaultimate.com | $96 |
| cofw.org | $95 |
| socoathleticclub.com | $91 |
| lighthousedewey.com | $90 |
| qbip.com | $87 |
| skygoneinc.com | $87 |
| tnptc.com | $82 |
| physio-net.com | $80 |
| thearticleblogs.com | $77 |
| suavelikesauve.com | $75 |
| restaurantdidier.com | $75 |
| 19814.com | $75 |
| trustmovie2011.com | $75 |
| celebratecongregations.com | $72 |
| clubonefitness.com | $70 |
| eydw.com | $70 |
| quepasadewey.com | $70 |
| hostiam.com | $65 |
| irishmediawatch.com | $65 |
| uihr.com | $61 |
| foreveryounghealth.org | $61 |
| zwebfr.com | $60 |
| pixelngrain.com | $55 |
| vnmr.com | $55 |
| thecoolspot.org | $55 |
| 20andengaged.com | $53 |
| forextradingsignalsprovider.com | $48 |
| riverrockncafe.com | $48 |
| designtec1.com | $46 |
| writersevents.com | $45 |
| balancebraceletusa.com | $42 |
| wetpaintcentral.com | $41 |
| familyreview.org | $40 |
| ridesafeny.org | $40 |
| mommyisintimeout.com | $40 |
| 1-texas-health-insurance.com | $38 |
| mainettseries.com | $38 |
| winagi.com | $35 |
| nicefoundation.com | $35 |
| rockymountainnaturists.com | $35 |
| phone-cards-4-you.com | $33 |
| proxywonderland.com | $32 |
| pricecollate.com | $30 |
| freesherman.org | $30 |
| delridgehistory.org | $27 |
| gardenspotkoi.com | $27 |
| torreymercerofficial.com | $25 |
| airbrushtattookits.net | $25 |
| wowcomputerparts.com | $25 |
| kentuckyoutdoorsmagazine.com | $25 |
| perlamachaenmiamirealestate.com | $22 |
| x-undergear.com | $22 |
| cvhuampani.com | $22 |
| littlehorsewinery.com | $22 |
| pipegripes.com | $20 |
| geekthetube.com | $18 |
| play-free-online-slots.com | $17 |
| travelbloggerspodcast.com | $17 |
| tonyhillyard.com | $17 |
| globalpridetravel.com | $15 |
| cvhx.com | $15 |
DropCatch Dropped Auctions:
DietLine.com $860
AlItongXin.com $811
Byws.com $475
AichiBank.com $289
Yzfyw.com $275
NeoLens.com $198
Flippa Domain Auctions:
seo.io $11,000
Baguette.com $6,999
Designer.io $3,000
poker.guru $275