These are the results of the "What Real Estate/Property Related New gTLD Is The Best?" poll.
This poll was triggered by a Frank Schilling comment left on a .realtor post at thedomains.com talking about what he thinks is the best New gTLD string related to real estate and property.
Of course he thought the his company's extension .property is the best one so I wanted to see what other people are thinking too. Frank Schilling thinks that .realestate is better than .realtor but it will be ruined by the NAR.
I know that some terms are more popular in some countries than others. For example no one knows what a realty is in Greece but everybody knows property and real estate.
Here is Frank Schilling's comment:
".realtor is just the wrong string.

I was a realtor in my 20's. I was loathe to use the term back then and I'd rather be caught dead than wrap myself in the flag of what is really a 'brand' owned by the NAR today. Who needs a micro-managing brand owner telling you how I "can" or "can't" use a name to express yourself online. Namespaces need to be free and open to work and REALTOR will never be either.

.REALESTATE is a better string, but run by the NAR (who own REALTOR), it will likely come with the same baggage as their .REATOR extension, (unless their partner on the string can talk some sense into them).

That leaves .PROPERTY which will come out at $29.95 at Uniregistry on November 25th (10 days from now) PROPERTY will feature lots of registry premiums but we have left regional geo's and everything else pretty much available.

The rest of the spectrum.. PROPERTIES, LAND, HOMES, REALTY is a bit like the land of broken toys, interesting to some folks, but not individually strong enough to create a center interesting to all in the space.

The name game is the same as it ever was. Good names trump the hoopties. The cream rises. But in this world it's the name spaces with low prices and hands-off governance that rise up to the envy of others."
These are a few of the real estate related strings that I could find. Some like .estate may not be direct competitors with others but I thought that that they belonged in the poll. Let me know if I missed any extension. I left out non-english strings. .Home has been killed of by ICANN but I included it anyway.
I was looking to see what New gTLD do you think is the best in terms of overall potential including recognition and adoption. Not strictly by number of registrations it may have as .realtor is already offering 500,000 free domain names to its members.
Here is the list of the strings with their respective registry operators:
.RealEstate (The National Association of Realtors)
.Property (Uniregistry)
.Properties (Donuts)
.Estate (Donuts)
.Land (Donuts)
.Realtor (The National Association of Realtors)
.Realty (Fegistry, LLC)
.Home (killed by ICANN)
.Homes (Dominion Enterprises)
.House (Donuts)
Some strings like .condos, .apartments and .MLS were not included in the poll.
NRA's .RealEstate was the most popular TLD with 28% and it was followed by Frank Schilling's .Property with 17%. .Properties got 10%.
Here are the poll results from the 145 votes: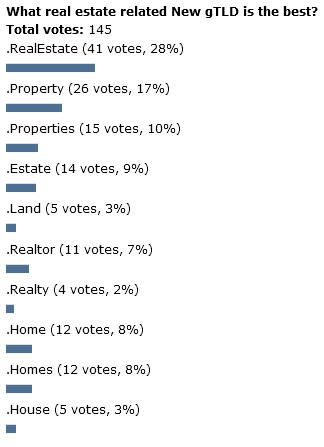 Please vote for my latest poll "Are You Renewing Your New gTLD Domains?" here.