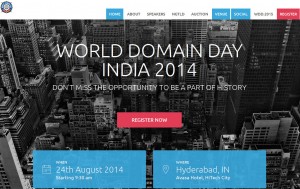 Indian Domain Owners Association, (IDOA) the organization of leading domain investors, web entrepreneurs and service in India, is organizing the first ever international domain conference in India, called World Domain Day [WDD.2014] on 24th August 2014 at Hyderabad.
Announced speakers at the conference include Mike Mann, Andrew Rosener, Andee Hill, Adam Dicker and more.
I made this post earlier but I got some information and I wanted to confirm what this conference is all about. I talked to Andee Hill and she confirmed that she will be speaking at this conference but remotely. She mentioned that others will do the same so I assume that all US speakers will be talking remotely.
I also found out that Sedo is going to be a sponsor. So I made these additions and reposted the article. I think that this should clear most things up. Some allegations about the past of some of the people behind the conference remain.
WDD says it expects attendees from India, USA, UK, Dubai, Australia, Denmark, New Zealand etc. and says that it expects to get extensive media coverage.
"Join us to network with hundreds of domain investors, web professionals, startups and venture capitalists to learn all about creating successful businesses online! Register for the event to listen to international speakers, receive exclusive offers, gifts and much more. Learn about the importance of domain names and ecommerce in the developing and fast growing Indian market."
"We are looking forward to build a mutually beneficial relation with individuals and companies operating in the same space. We are hopeful that as an event it will be a great opportunity to network and tap into the Indian market which is still under-developed and growing rapidly."
Next year's World Domain Day [WDD.2015] will be in Dubai.
Early Bird: Buy Tickets today! Use discount code DOMAINER40 for a hefty discount. Valid for 40 redemptions only. Ticket prices start at about $63.
Auction: WDD.2014 is holding a premium names auction as well. If you are interested to submit, check out our website.
Event to be held at the following time, date, and location:
Sunday, August 24, 2014 from 9:00 AM to 7:00 PM (IST)
Avasa
HUDA Techno Enclave
Hitech City
Hyderabad, 500081
India
Website: WorldDomainDay.com
Tickets: http://WorldDomainDay.eventbrite.com/
Organizer's Email: Team@IDOA.in
Phone: +91.783.817.4519