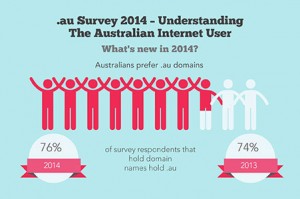 A survey of more than 3,000 Australians has found .au domain name registrations are on the rise, with 76% of all domain name holders choosing .au, an increase of 2% on last year.
The survey is the second annual report to investigate domain name use and ownership in Australia.
It was jointly prepared by AusRegistry and .au Domain Administration (auDA) with assistance from global market research company Effective Measure.
Security and trust
The report found .au remains Australia's home on the Internet with more than double the level of trust over any other namespace.
George Pongas, General Manager of Naming Services at AusRegistry, said the results show the .au brand position is built on a foundation of trust, reliability and security.
"Two-thirds of survey respondents are more likely to trust a .au website compared with only one-third for a .com," Mr Pongas said.
"Security and trust were a recurring theme and we found that Australian Internet users are security conscious when navigating the web. Trusted organisations (64%) and secure websites (61%) both ranked high in factors that are important for Australians navigating the Internet.
"Given that survey respondents reported .au is synonymous with doing business online, it is clear that .au domain names are a symbol of online trust and security for Internet users in Australia."
Mr Pongas said the result is reflective of the industry's longstanding commitment to security and stability, and more recently exemplified this past year through the introduction of the world-first Registrar Information Security Standard by auDA and AusRegistry's domain name security service, .auLOCKDOWN.
Policy and governance
Chris Disspain, CEO of auDA, said this year's report reinforced the satisfaction with the current level of governance for the .au namespace.
"The overwhelming majority of .au domain name holders perceived the registration process as being very easy. The results show that both governance and ease of registration are considered to be appropriate by the vast majority of respondents, which is a strong endorsement of auDA's regulatory model," Mr Disspain said.
"This is consistent with the fact that Australian businesses rely on .au for their online presence. More than 80% of respondents use their .au domain names for business websites, supporting our position that .au is Australia's online home for business."
Women and .au
The survey also found the number of females holding domain names increased from 16% in 2013 to 22% this year.
The barriers to increasing female registrations is an active area of investigation and auDA's recent promotion of the 2014 Australia and New Zealand Internet Awards calls for more females to get their businesses online and embrace the benefits and success it can afford.
The publication of today's report follows last year's report which established a benchmark of domain name use and ownership in Australia. A previous report by Deloitte Access Economics in 2011 found the .au domain namespace contributes $475 million to the Australian economy per year and supports more than 4300 full-time jobs.
The 2014 report will also be a topic of discussion at the Australian Internet Governance Forum hosted by auDA. The Hon Malcolm Turnbull MP – Minister for Communications, will officially open the 2014 auIGF in Melbourne on 26 August.
About AusRegistry
AusRegistry is the custodian of the technology that powers Australia's home on the Internet, the .au namespace. We've been entrusted to operate the Registry for all commercial domain names such as .com.au and .net.au, and non-commercial domain names like .gov.au and .edu.au. AusRegistry creates technology that empowers the daily online lives of Australians; we are trusted with the management and operation of the software and infrastructure supporting millions of .au domain names.
About auDA
.au Domain Administration Ltd (auDA) is an Australian non-profit company vested with the responsibility of operating the .au domain under an industry self-regulatory model, for the benefit of all stakeholders. In its role as manager of the .au domain, auDA develops and implements domain name policy and is responsible for consumer safeguards.