The Trademark Clearinghouse has published it's latest stats. So far 26,802 marks have been submitted to the Trademark Clearinghouse as of the 28th of February. The number was 23,024 on the 21st of January that was almost a week before the launch of the first 7 new gTLDs from Donuts.
So the Trademark Clearinghouse has added almost 3,500 since the launch of the first new gTLDs meaning that there are many companies that were alerted about this launch a bit late. Or it just means that the first batch of new gTLDs was not related to their trademarks.
It is getting more difficult with each passing day to find a dictionary term that is not registered in the Trademark Clearinghouse and because of availability most of the New gTLD domains that are registered consist of just 1 word. There may be a flood of URS complaints such as these with unexpected results.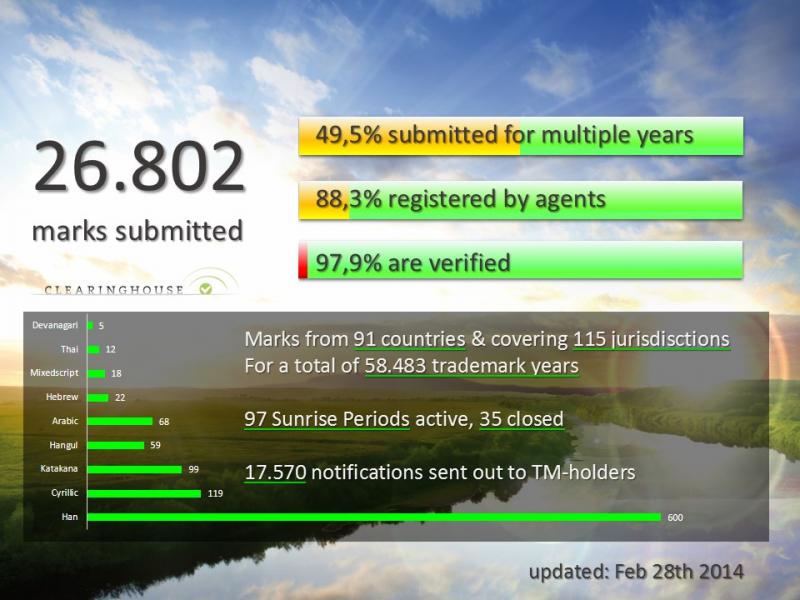 49.5% of the trademarks are registered for multiple years and 97.9% of the marks have been verified. I am not sure what they mean by "verified" because there are a lot of questionable marks that are used to by top domain names in sunrise such this and this.
35 sunrise periods have been closed while 97 remain active.
Finally there have been 17,570 notifications sent out to TM holders so fay. This means that 17,570 new gTLD domain names have been registered that contain a mark that is registered in the Trademark Clearinghouse.