Go Daddy Auctions and Sedo integration seems to be having a few problems today. I got an offer today on one of the few domains I have left at Sedo through Go Daddy auctions. I had a problem with the offer that I will explain below so I went to visit the Go Daddy website to see how my domain name appears there. This is what I saw: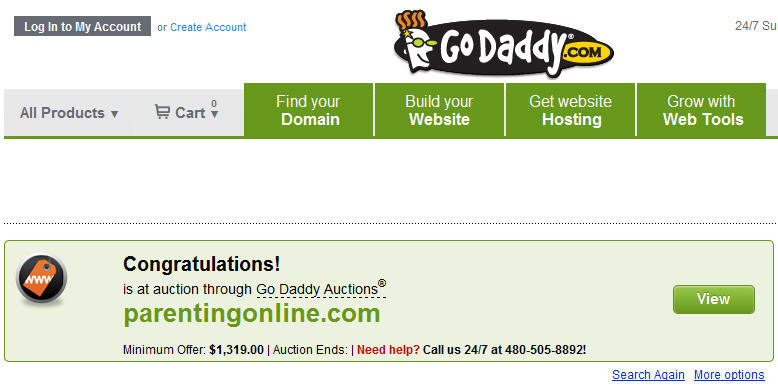 The domain name is at the wrong place at the webpage. This appears:
Congratulations!

is at auction through Go Daddy Auctions parentingonline.com
instead of something like:
Congratulations!
parentingonline.com

is at auction through Go Daddy Auctions
Also there is no auction end date. I wonder if the missing date is a temporary bug or maybe Go Daddy has decided to remove it because the perpetual 80 day auction is confusing buyers because the domains are not actually in auction.
The problem I had and made me visit Go Daddy was that while I had a price set at Sedo for this domain, this price does not show up at Go Daddy. That is because I have not set the domain as "Buy Now" at Sedo. If you set a price at Sedo and have the domain marked as "Make Offer" then this price is not pushed to Go Daddy. Buyers visiting Sedo can certainly see the "Buy Now" price. The $1,319 price you see is my minimum offer price.
I don't understand this "feature". Why would someone set a BIN price and then ask for offers? I don't understand what purpose this serves. This shows that you are inviting negotiations and also puts a ceiling to these negotiations before even getting the first offer. I have a few domains in this situation because I didn't know this was possible. I don't usually price domains, but when I do I don't want to negotiate further.