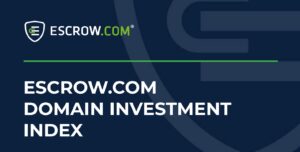 Escrow.com released its Domain Investment Index report for 2Q 2023.
Total domain name volume on Escrow.com eased from $129.8M in 1Q23 down to $89M. Overall, 2Q23 has less mega domains in comparison to the previous quarter. Volume is slowly picking back up after the recently held Namescon event at the beginning of June.
The key highlights of the quarter reveals a surge in .ai, which almost doubled from the previous quarter and is now the highest recorded volume
for .ai domains.
In addition to an increase in .ai domains, Escrow.com also saw an increase in the median price of several different types of domains.
Please see the report attached or online here
<https://streak-link.com/BmPHtrv0tIZ6z8kzdwOHlfg4/https%3A%2F%2Fdrive.google.com%2Ffile%2Fd%2F1yE63LKi6MvmN-wXD0CDVEeUu4fn_FU62%2Fview%3Fusp%3Dsharing>
for more information.